Child support amounts for divorcing parents are spelled out in law in the form of a table with calculations based on combined monthly parental incomes and the number of children.
That table hasn't changed in decades, says Rep. Jamie Becker-Finn (DFL-Roseville), and "disproportionally burdens" low-income parents who sometimes pay so much of their income that they can't adequately support themselves.
She sponsors HF980, which would incorporate many recommendations from the 2019 report of the Child Support Task Force established by the Legislature in 2016.
By a 16-1 vote Thursday, the House Judiciary Finance and Civil Law Committee approved the bill, as amended, and sent it to the House Human Services Finance and Policy Committee. The companion, SF1519, sponsored by Sen. Mary Kiffmeyer (R-Big Lake), awaits action by the Senate Civil Law and Data Practices Policy Committee.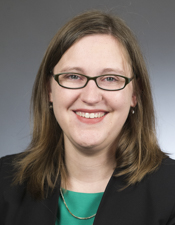 Rep. Jamie Becker-Finn
The bill is kind of a mini-omnibus child support package, Becker-Finn said, as it adds language from HF981 and HF348 that deal with eliminating interest charges on unpaid child support, and court notifications regarding custody notices, respectively.
"This bill would make things fairer and more in line with what people are actually able to pay," Becker-Finn said.
It would make "much-needed changes" to existing child support payment formulas, said Melissa Rossow, assistant Ramsey County attorney and member of the task force.
The task force was very concerned about placing too much financial burden on low-income child support payers, Rossow said, and so it successfully recommended changes that would reduce a paying parent's income by a "self-support reserve" before calculating an income-based child support amount.
"We get better collections when the child support orders are set appropriately," said Amy Anderson, assistant Ramsey County attorney, who assisted the task force to modify the basic support table with low-income adjustments.
The bill would also adopt a task force recommendation to make a court's reporting of child support arrears to a consumer reporting agency optional, not required, and allow both parties the option of developing a repayment agreement.
Charging interest on unpaid child support payments would also be eliminated, Anderson said, noting that this was an especially harsh burden on low-income people and made some arrears unpayable due to ever-increasing finance charges.
Rep. Peggy Scott (R-Andover) noted that there is a minority report to the task force's recommendations, which she signed.
The table calculating child-support payments "is not perfect," she said, and still needs to be adjusted.
Despite her reservations, Scott said she would vote to approve the bill because it changes the current formula that could require up to 75% of a person's income to be taken for child support, which she called "immoral."