The state's Family Home Visiting program, which provides voluntary services for pregnant women and families with young children most in need of support could get a funding boost.
The House Early Childhood Finance and Policy Committee heard two proposals Thursday sponsored by Rep. Kristin Bahner (DFL-Maple Grove), one of which would increase funding for the program to expand access.
Bahner provided information on a soon-to-be introduced bill that would increase funding from $33 million to $278 million per biennium. Current funding supports 10% of eligible pregnant women and families with young children. The increased funding would support nearly 81,000 more families and 100% of the need, she said. No action was taken.
"This would position Minnesota as a national leader in providing voluntary home visiting services," Bahner said.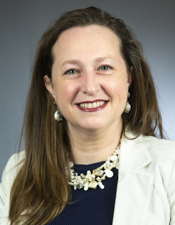 Rep. Kristin Bahner
The other proposal, HF1197, would codify family home visiting language previously outlined in session law into statute. It would also maintain the current appropriation of $33 million for the upcoming biennium, and specify that 25% of funding must be used to support programs that are evidence-informed and culturally appropriate.
It was approved 11-2, and now heads to the House Health Finance and Policy Committee. The companion, SF1360, awaits action by Senate Health and Human Services Finance and Policy Committee. Sen. Julia Coleman (R-Chanhassen) is the sponsor. 
LaSherion McDonald credits the program for helping her overcome adversity and find success. As a teenage mom, she received ongoing support from public health workers who educated her on child development, were emotionally supportive and helped her finish high school by ensuring her basic needs were met.
After graduating, McDonald's public health nurses wrote her letters of recommendation to St. Catherine University in St. Paul. She graduated in 2017 and is now employed with Ramsey County as a public health worker.
"They have really made a huge impact on my life," she said. "I'm officially out of poverty, I'm married now, I now have two kids. I feel like I'm a better mom, professional and woman because of home visiting."
Members applauded McDonald on her success and ability to overcome obstacles. "The fact that you worked your way out of poverty and changed the legacy and trajectory for you and your family is very commendable," said. Rep. Lisa Demuth (R-Cold Spring).