The number of foster kids placed with family members has increased significantly over the past few years, but many barriers remain for prospective kinship foster parents.
HF1420, sponsored by Rep. Hodan Hassan (DFL-Mpls), aims to eliminate those barriers by requiring local social service agencies to refer relatives to private, community-based organizations for licensing training and support, case management, and post-placement services.
The House Human Services Finance and Policy Committee held it over for possible inclusion in an omnibus bill Wednesday after amending the bill to include a grant program to expand the pool of prospective foster care and adoptive families who reflect the racial and ethnic backgrounds of children in out-of-home placement.
An appropriation would come from the General Fund, but the amount is unspecified.
A companion, SF1809, is sponsored by Sen. Bobby Joe Champion (DFL-Mpls) and awaits action by the Senate Human Services Reform Finance and Policy Committee.
The benefits of a successful kinship placement are extraordinary, and set children up for better, lifelong outcomes, Hassan said.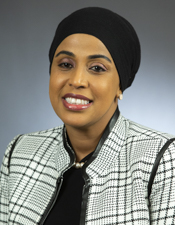 Rep. Hodan Hassan
But relative foster families often need specialized supports to meet licensing standards while actively caring for their relatives, and those supports are not routinely provided, said Susannah Barnes, executive director of EVOLVE Family Services.
Some relatives go unidentified and never get the chance to provide care, while others may be actively dissuaded from pursuing licensure because of issues that could be overcome with additional support, she said.
Geraldine Reeves was one such case.
She moved back to Minnesota from Texas specifically to take care of her two grandchildren after they were placed in foster care. But the county told her that she couldn't get licensed as a foster care provider, Reeves said.
EVOLVE ended up advocating for Reeves and assisted her during the licensing process and afterward. She was licensed and became a foster parent for her grandchildren in April 2020, and adopted them in November 2020, she said.
But the entire process was so overwhelming, Reeves felt ready to give up at several different points, and may have given in if not for the additional support and guidance, she said.
Private, community-based organizations are in a good position to reduce barriers, as smaller caseloads allow them to spend more time with families, providing more personalized care, connecting them to resources, and supporting them throughout placements, Barnes said.
Stacy Hennen, legislative chair for the Minnesota Association of County Social Service Administrators, agreed that it is "imperative" for children to be placed with relatives whenever possible and expressed support for increased funding to provide additional assistance to families.
However, requiring counties to refer families to private community organizations "creates significant negative impacts" regarding relative foster care search and placement proceedings currently underway.
"The proposal, as written, is not always feasible and is not financially viable for counties," she said. "Private agencies charge counties administrative rates on top of the foster care cost of the child … (that) range from approximately $28-$75 per day, per child."
The proposed legislation also puts Greater Minnesota counties into a bind, as outside organizations that meet the bill's requirements are not evenly distributed across the state.
"Creating a requirement for something that doesn't exist statewide, with no plan for how to build it out, and then asking counties to pay for it is not only a burden, but an unrealistic expectation," Hennen said.
Barnes said the proposed legislation is about creating options for families – specifically families that counties are unwilling or unable to assist – but agreed the referrals did not necessarily need to be mandatory.
"We are not trying to put a burden on the counties," Hassan said. "What we're trying to do is what's best for the children."
The bill would also require child-placement agencies working with relative caregivers to:
design a case management services plan to coordinate family supports and access additional services;
provide referrals for therapy, developmental screenings, and fetal alcohol spectrum disorder assessments, as needed; and
contract with private, community-based organizations to provide additional help with conducting relative searches.
The Department of Human Services would be required to establish a relative placement support call line, staffed to take calls 24 hours a day, seven days a week. 
Appropriation amounts to support this work are not specified in the bill. A fiscal note was not available.