A shortage of 95,000 child care slots in the state is an all-hands-on-deck situation, said Rep. Liz Olson (DFL-Duluth).
She's encouraging legislators to address the shortage by building off a previous success.
Olson sponsors HF3783 to provide an additional $5 million to a Department of Employment and Economic Development grant program that offers grants to new child care startups and expansions through building, training, facility modifications, worker incentives or help with licenses or other regulations.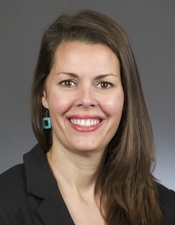 Rep. Liz Olson
The bill was approved, as amended, 12-0 by the House Workforce and Business Development Finance and Policy Committee Wednesday and now goes to the House Early Childhood Finance and Policy Committee.
The grants began four years ago to address a shortage in child care in Greater Minnesota, which relies more heavily on home-based providers, where capacity has declined by 47% since 2002, according to information provided by the Coalition of Greater Minnesota Cities and the Greater Minnesota Partnership.  
Affordability and availability are issues across the state, but in some areas outside the metro area, child care can't be found at any price, said Scott McMahon, executive director of the Greater Minnesota Partnership. The lack of child care hinders economic development when businesses can't recruit or maintain their workforce, he said.
Funding for the program has grown 10-fold, but requests far outstrip money available. There was $9.5 million in funding requests for $2.5 million available last year.
Many projects were left out not because they weren't worthy, but because DEED didn't have the money, said Scott Marquardt, senior vice president for the Southwest Initiative Foundation. The projects resulted from community engagement, private-public partnerships, data-driven processes and prudent business planning, he said. Many involved rehabbing or repurposing underused spaces such as old school buildings.
Rep. Dave Baker (R-Willmar) vouched for grant program's efficacy, citing a $50,000 grant that was the final funding added to $800,000 raised for a center in Spicer. The community repurposed space in an old shopping mall for a YMCA-operated center.
"They were able to turn over this beautiful, brand-new facility to the YMCA with no debt really," Baker said. "They were able to take over the lease, take over the operations, and it is a model for across the state."
The bill's companion, SF3497, sponsored by Sen. Jason Rarick (R-Pine City), awaits action by the Senate Jobs and Economic Growth Finance and Policy Committee.