Making child care affordable for low-income families and helping child care providers are two key elements of the omnibus early childhood finance and policy bill.
It would make several changes to the child care assistance program, expand the definition of family and increase rates paid to providers.
The House Early Childhood Finance and Policy Committee received a walkthrough of the delete-all amendment to HF4735 Tuesday. Public testimony is scheduled Wednesday with a vote expected Thursday.
Sponsored by Rep. Dave Pinto (DFL-St. Paul), the bill would expand the definition of family to include foster care families, relative custodians and successor custodians, and define care provided by them as child care. It would also establish grant programs to assist child care providers with technology needs and provide bonuses for licensed family child care providers and legal nonlicensed providers who care for infants.
Total General Fund appropriations for the 2022-23 biennium would be $771 million, including $250 million in new money.
[MORE: View the spreadsheet]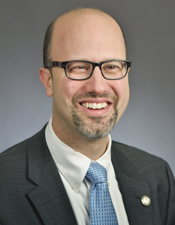 Rep. Dave Pinto
The bill would modify and change funding for many early education programs. For example, it would designate 10.72% of the state appropriation to Head Start programs to go to tribal Head Start programs; increase funding for early childhood screenings, and establish grants for Grow Your Own child care educator programs to enhance and diversify the early childhood workforce.
Some changes made to the child care assistance Basic Sliding Fee program during the COVID-19 pandemic would be made permanent in an effort to help end the wait listing for families who meet income and other eligibility criteria.
A licensed child care program, school district, charter school, Head Start program, institute of higher education, or other community partnership nongovernment organization could apply for a grant to host, build, or expand an early childhood educator preparation program that leads to a credential or degree.
The proposed legislation also would modify provisions for child care licensing. It would add an individual designated as the primary provider of care for a special family child care program to the definition of "controlling individual."
The Department of Human Services would be permitted to increase the maximum group size to no more than 40 children and increase the acceptable staff-to-child ratio to 1:20 for certified, license-exempt child care centers during national security, peacetime, or pandemic-related public health emergencies.
And, the department could make grants to school districts and charter schools to provide services related to children's mental health.
[MORE: View a nonpartisan House Research Department summary]
Among other provisions, the bill would:
establish a grant program to enable family child care providers to implement shared services alliances;
require child care resource and referral programs to administer the child care one-stop regional assistance network and provide assistance to child care providers and individuals interested in becoming providers and provide supports that enable economically challenged individuals to obtain the skills training, career counseling, and job placement assistance necessary to begin a career in child care;
direct the Department of Human Services to make a onetime allocation of $75.36 million in fiscal year 2023 from the child care and development fund for the increased child care assistance rates;
require the Department of Human Services to develop a cost estimation model for providing early care and learning, and a child care provider wage scale;
allow the Department of Human Services to conduct and administer pilot projects to test methods and procedures related to the child care modernization regulations established by the 2021 Legislature;
allow school districts to receive school breakfast aid for Early Childhood Special Education students who participate in voluntary prekindergarten programs and make free breakfast available to them;
allow adults who provide child care, or caregivers, to participate in early childhood family education programs; and
make families that have a child referred as in need of child protective services or placed in foster care eligible for early learning scholarships with highest priority being children younger than age 4 and children with incarcerated parents.
***
What's in the bill?
The following are selected bill have been incorporated in part or in whole into the omnibus early childhood finance and policy bill: