Nearly two weeks ago, the House Education Finance Committee held a "Student Voices Day," giving students from across Minnesota the chance to testify about what they believe are the most pressing concerns facing schoolkids.
Every student made clear that unmet mental health needs are a critical issue, if not an outright crisis in the state's schools.
On Wednesday, the committee responded to those concerns by hearing HF8, a bill that would appropriate $475 million in the coming biennium to fund additional school support personnel. The spending proposal was laid over, as amended, for omnibus bill consideration.
House education committee hears bill to fund additional school support personnel 2/1/23
Rep. Kaela Berg (DFL-Burnsville), the bill's sponsor, relayed her struggles to secure in-school assistance for her youngest son's needs.
"In third grade he was diagnosed with ADD," Berg said. "I never thought for even a moment that the teachers and support staff didn't care about my son. They were working within a broken and over-burdened system that has left teachers and support personnel at wits end."
Berg's son eventually got the support he needed, but the experience motivated her to run for office and engineer a legislative solution to help other students who aren't so fortunate.
As defined in the bill, school support personnel include counselors, nurses, psychologists, social workers, and chemical dependency counselors. According to numerous testifiers, schools are currently experiencing an acute shortage of these licensed professionals, hamstringing their ability to aid students struggling with behavioral and mental health issues.
"Only half of Minnesota's schools in 2021 had a school counselor in the building," said Keela Kuhlers, the 2022 Minnesota School Counselor of the Year.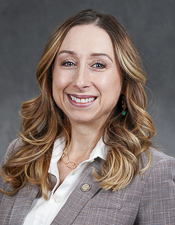 Rep. Kaela Berg
Meanwhile, Tara Cliff, president of the School Nurse Organization of Minnesota, estimates that approximately two-thirds of schools don't have a licensed school nurse on staff.
Berg noted her bill would provide ongoing funding for every school district in the state to hire these essential professionals. Many variables would affect funding levels, but a floor would be set at $50,000 per district.
Several members referenced the shockingly high rate of suicide among Minnesota's students as further evidence of the urgent need for more on-site support personnel.
"This is incredibly important, especially for my area," said Rep. Nolan West (R-Blaine). "Blaine High School had six suicides in a single year. It's just insane."