The federal government established the Indian Child Welfare Act in 1978 to help end the practice begun in the 1800s of separating Native American children from their families in an attempt to "kill the Indian and save the child," Rep. Alicia Kozlowski (DFL-Duluth) explained last month during an emotional House hearing on the topic.
The Minnesota Indian Family Preservation Act was enacted in 1985 to strengthen and expand parts of the federal law. However, a case currently before the U.S. Supreme Court (Brackeen v. Haaland) could result in the federal act being overturned.
The House took action Thursday to mitigate the impact in Minnesota should that happen.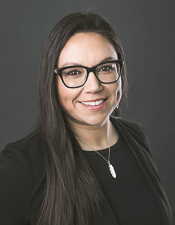 Rep. Heather Keeler
Members voted 128-0 to pass HF1071/SF667* that would add the federal provisions — including procedures and requirements for child protection, placement and permanency proceedings — to the Minnesota act. Passed by the Senate 66-1 on Feb. 27, the bill now heads to Gov. Tim Walz.
"This bill is before us in the present because it is needed as a result of the past," said Rep. Jessica Hanson (DFL-Burnsville). "… America failed and, in many ways, continues to fail the original inhabitants of this land."
Supporters believe the bill will help reinforce Minnesota's recognition of the stability, security and sovereignty of its tribal nations and communities.
Rep. Heather Keeler (DFL-Moorhead) said many consider the federal act "an apology" for the harm done to Native American communities.
"This bill says we agree, on Minnesota land, that our children deserve the opportunity to have access to their family, their culture, their beliefs," she said.
During committee testimony, Melanie Benjamin, chief executive of the Mille Lacs Band of Ojibwe, said the federal act has helped tens of thousands of American Indian children find fairness and healing by establishing standards that include working to keep families together and helping kids retain their heritage.
"In the long run, this [bill] will help us preserve our way of life, our language and our culture," she said.