Earlier in the session, the House approved the move toward 100% carbon-free sources of electricity by 2040. Then it vowed to provide state matches for federal funds for alternative energy infrastructure. And now it's taken another step on the road toward the widespread use of renewable energy sources.
On Wednesday, the House Climate and Energy Finance and Policy Committee approved the omnibus climate and energy finance bill by a split-voice vote. It moves to the House Ways and Means Committee.
Sponsored by Rep. Patty Acomb (DFL-Minnetonka), HF2754, as amended, would send $334.8 million toward energy-related projects and programs, including grants for pre-weatherization, upgrading residential electric panels, and helping schools put solar arrays on their roofs and electric school buses idling outside their doors. It would also finance rebate programs for the purchase of electric vehicles, air source heat pumps and energy storage systems.
"What I have heard in my years of serving in an elected capacity is that climate change is an issue that's important to Minnesotans," Acomb said. "Minnesotans are wanting and demanding action. Especially young people. And I think if we all continue to focus on the future that we will get there in a good way, working together."
"We are facing a once-in-humanity challenge," said Rep. Larry Kraft (DFL-St. Louis Park). "But it's a tremendous opportunity."
[MORE: View the spreadsheet, Learn more about what's in the bill]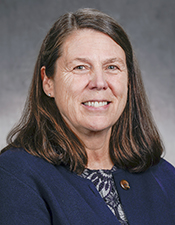 Rep. Patty Acomb
The committee considered 12 amendments and approved three. They would return the 2023 allocation for a solar energy production incentive program to its original level, increase a maximum wattage allowable within the "Solar on Schools" program, and alter the type of projects exempted from Public Utilities Commission approval.
Among the unsuccessful amendments — all offered by Rep. Chris Swedzinski (R-Ghent) — were proposals to eliminate energy benchmarking; fund studies on the use of solar energy systems on prime farmland and near parks and wildlife management areas; allow the Public Utilities Commission to modify or delay implementation of a building materials standard; discontinue funding of a solar energy production incentive program; and delay the implementation of energy policy goals.
"What this bill is going to be doing is making the state of Minnesota the driver on policy," said Rep. Spencer Igo (R-Wabana Township). "If we would have let the free market continue on its own, the free market could have adapted. We could have brought more manufacturing to this state."
"I represent a district with a lot of low-income people and communities of color, and I feel very certain and very confident that this will benefit them," said Rep. Athena Hollins (DFL-St. Paul). "They're going to use these grants to upgrade electric panels to make it so they can plug in a hair dryer and use the microwave and not worry about their lights flickering. … Yeah, probably most of my district is not going to buy electric vehicles. But we are bordered by [Interstates] 94 and 35, so those fumes coming off of everyone's cars are coming to the lowest income individuals, because that's where folks can afford to live. It's going to make it easier for them to breathe."
"I'm expecting that what comes out of the Senate will look a little different," Swedzinski said. "I'm hoping that, through the conference committee process, we can come out with a product that has more bipartisan support. But it's my guess that this bill won't."