Family homeless prevention. Down payment assistance for first-generation homebuyers. And a state rental assistance program.
Plus, a contentious 0.25% sales tax on metro area shoppers.
Sponsored by Rep. Michael Howard (DFL-Richfield), HF2335 would fund all these programs and more housing initiatives, while also imposing the new tax.
Stressing the importance of housing, Rep. Hodan Hassan (DFL-Mpls) quoted former Rep. Alice Hausman, saying, "If you don't have a place to lay your head at night, nothing else goes right in life."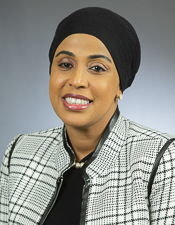 Rep. Hodan Hassan
Via an 8-5 vote, the House Housing Finance and Policy Committee adopted an amended version of the delete-all amendment Wednesday. It goes to the House Taxes Committee next.
Financial provisions
The current proposal would lower the appropriation from $1.1 billion to $1.07 billion.
With HF1440 being passed and likely to become law soon, that $50 million previously part of the total has been removed. In addition, a Howard amendment moved $5 million for the Greater Minnesota grant program from the Department of Employment and Economic Development to the Minnesota Housing Finance Agency.
Therefore, there was a net reduction of $45 million.
Major spending in the bill includes:
$200 million for the housing infrastructure program;
$150 million to establish a first-generation homebuyers down payment assistance fund;
$100 million for a new rent assistance program; and
$25 million for the manufactured home lending grants program.
[MORE: Learn more about other bills included and financial provisions]
Adopted amendments
A amendment successfully offered by Rep. Jim Nash (R-Waconia) would have the Minnesota Housing Agency provide translation services to ensure communications are made in an applicants' primary language.
Offered by Rep. Brian Johnson (R-Cambridge), an amendment was adopted, with an oral amendment, that would "allow cities that have land ready to go to be able to use it right away" for the Greater Minnesota housing infrastructure grant program.
Failed amendments
An amendment unsuccessfully offered by Nash to remove the sales tax provision failed along party lines.
"A billion dollars is a lot," said Nash, who dislikes taking any additional funds from Minnesotans on top of the bill's proposed spending and says the idea is a regressive tax that is going to tax the people it intends to benefit.
But DFLers defended the tax.
"You know what's more regressive than a sales tax is housing costs and rents that are going up. In the metro area, fully half of all renters are paying more than 30% of their income on housing," Howard refuted.
Rep. Matt Norris (DFL-Blaine) believes a tool like this will get Minnesotans the resources the state needs.
"And we have to realize that in the tails we've only got $50 million allocated to housing," he said.
Rep. John Petersburg (R-Waseca) cautioned against unnecessary taxes, saying they can spend nothing without first taking that money from someone else, like taxpayers.
Another unsuccessful amendment, this one from Rep. Andrew Myers (R-Tonka Bay), would have cut the $150 million first-generation homebuyer downpayment assistance funding to $120 million and used the leftover $30 million to convert empty, unused school buildings into homeless shelters.
Howard said he would like more research into the feasibility of the idea before devoting that much of the housing budget to it but enjoys the concept of utilizing existing infrastructure.