Rep. Cedrick Frazier (DFL-New Hope) and his family moved into their community anticipating they'd be able to take a train downtown to enjoy the amenities and services. That opportunity is still years away, though outreach and planning are turning into dollars and cents.
Frazier sponsors HF1576 that would provide $200 million from bond sales to build an extension of the Metro Transit Blue Line from downtown to North Minneapolis, Robbinsdale, Crystal and Brooklyn Park. The bill was heard on an informational basis by the House Capital Investment Committee Friday.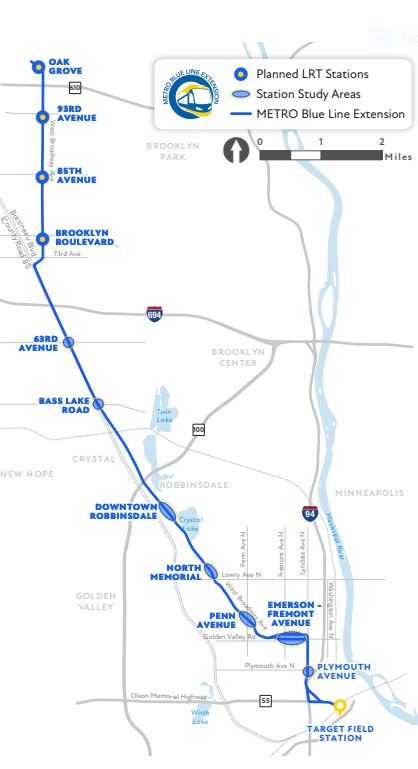 Map of the proposed METRO Blue Line Extension. (Map courtesy of the Metropolitan Council)
Extension of the light rail transit line would follow West Broadway and County Road 81 (Bottineau Blvd.) from Minneapolis to the northwest suburbs. The Hennepin County Board and Metropolitan Council approved the route in June 2022, though the final route to reach Target Field station is still under review.
Supporters say the Blue Line extension would be transformational to racially diverse, transit-reliant communities that have historically seen underinvestment.  
"It will ignite economic development for small businesses, result in more affordable housing options, increase access to educational opportunities, and build wealth for working families," wrote North Hennepin Community College President Rolando Garcia.
Additionally, state money invested in construction could leverage hundreds of millions from the federal Infrastructure Investment and Jobs Act.
Rep. Dean Urdahl (R-Grove City) said $200 million is a lot of money, even in a bonding bill. He wondered if it could be phased in.
The current Blue Line runs between downtown Minneapolis and the Mall of America. Planning for the extension goes back more than a decade. Federal Transit Authority documents from 2019 estimated the cost at $1.54 billion.
Metro Transit's Green Line operates between downtown Saint Paul and downtown Minneapolis. Extension of the Green Line to the southwest suburbs of Minneapolis through St. Louis Park, Hopkins, Minnetonka and Eden Prairie is underway, though significantly overbudget and years overdue.