While opening a broader discussion on school discipline, a new proposal is pitting school districts seeking further discretion against those who feel similar "zero-tolerance" policies can increase racial disparity.
"We're starting a discussion," said Rep. Ron Kresha (R-Little Falls), who sponsors HF905. "We need to bring groups to the table."
The so-called "bill of the day" by Rep. Sondra Erickson (R-Princeton), chair of the House Education Innovation Policy Committee, would eliminate the requirement for a student to be "willfully" violating school policy before their dismissal or removal. It would also require districts to reassess whether suspension of elementary students is consistent with school policy.
It was laid over Thursday by the committee for possible omnibus bill inclusion. It has no Senate companion.
An August 2016 Supreme Court ruling upheld that, under the Pupil Fair Dismissal Act, a student must knowingly violate a school policy before they can be considered in violation of it. This includes careless or reckless violations. Behavior that is a manifestation of a disability is not grounds for expulsion.
"This is a conversation that needs to happen," Rep. David Bly (DFL-Northfield) said. "It speaks to our lack of understanding of behavior and how to deal with it. This is symptomatic of a wound we have in society, and we need to work hard to heal that."
Deeper discussions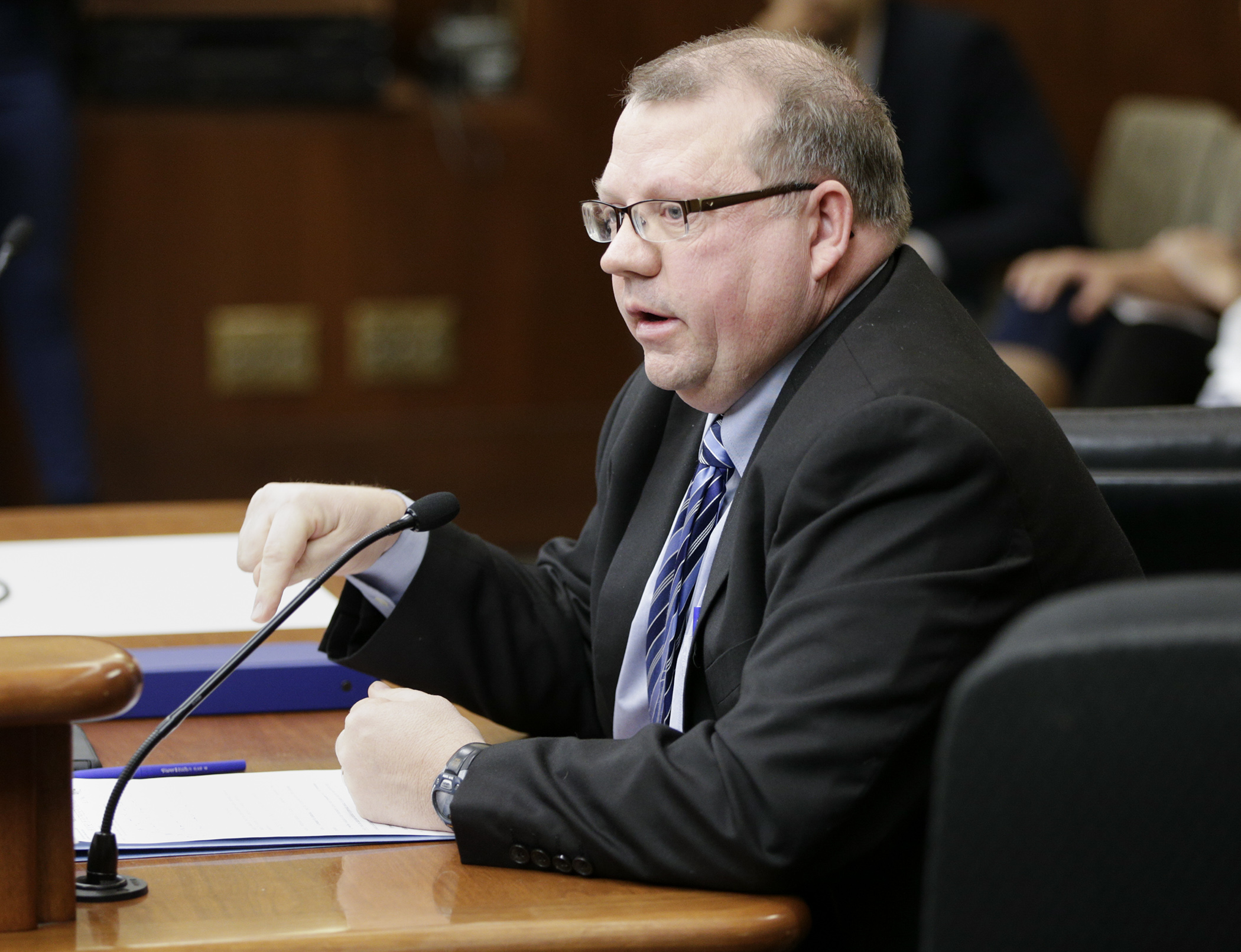 During the Feb. 16 House Education Innovation Policy Committee meeting, Rep. Ron Kresha comments on a bill he sponsors, HF905, which would change school disciplinary actions. Photo by Paul Battaglia
Kresha concedes the bill is far from a cure-all, but insists it serves as a starting point to an important conversation that could result in more sophisticated solutions down the line.
Proponents contend that with the "willful" threshold in place, districts are handcuffed to a high threshold of proof. As a result, they are hesitant to fully discipline students, even when they feel it may be justified.
"The standard that the Supreme Court is holding school districts to is higher than the standard you would see a criminal prosecutor have in a criminal case," said Peter Shaw, a district attorney for the Rosemount-Apple Valley-Eagan School District. "This [bill] keeps substantial due process rights for students and adds some for elementary students."
WATCH: Full video of the committee meeting
Fearful they won't be able to meet the standards of proof, it's argued that districts allow disruptive behavior to go undisciplined, creating a cyclical process.
"School districts are unwilling to even consider an expulsion because the burden of proof is so high, because the playing field is now slanted so far in the favor of students," said Michael Waldspurger, a shareholder with the law firm of Rupp, Anderson, Squires & Waldspurger.
Waldspurger said in the wake of the Supreme Court decision students often use forgetfulness as a defense.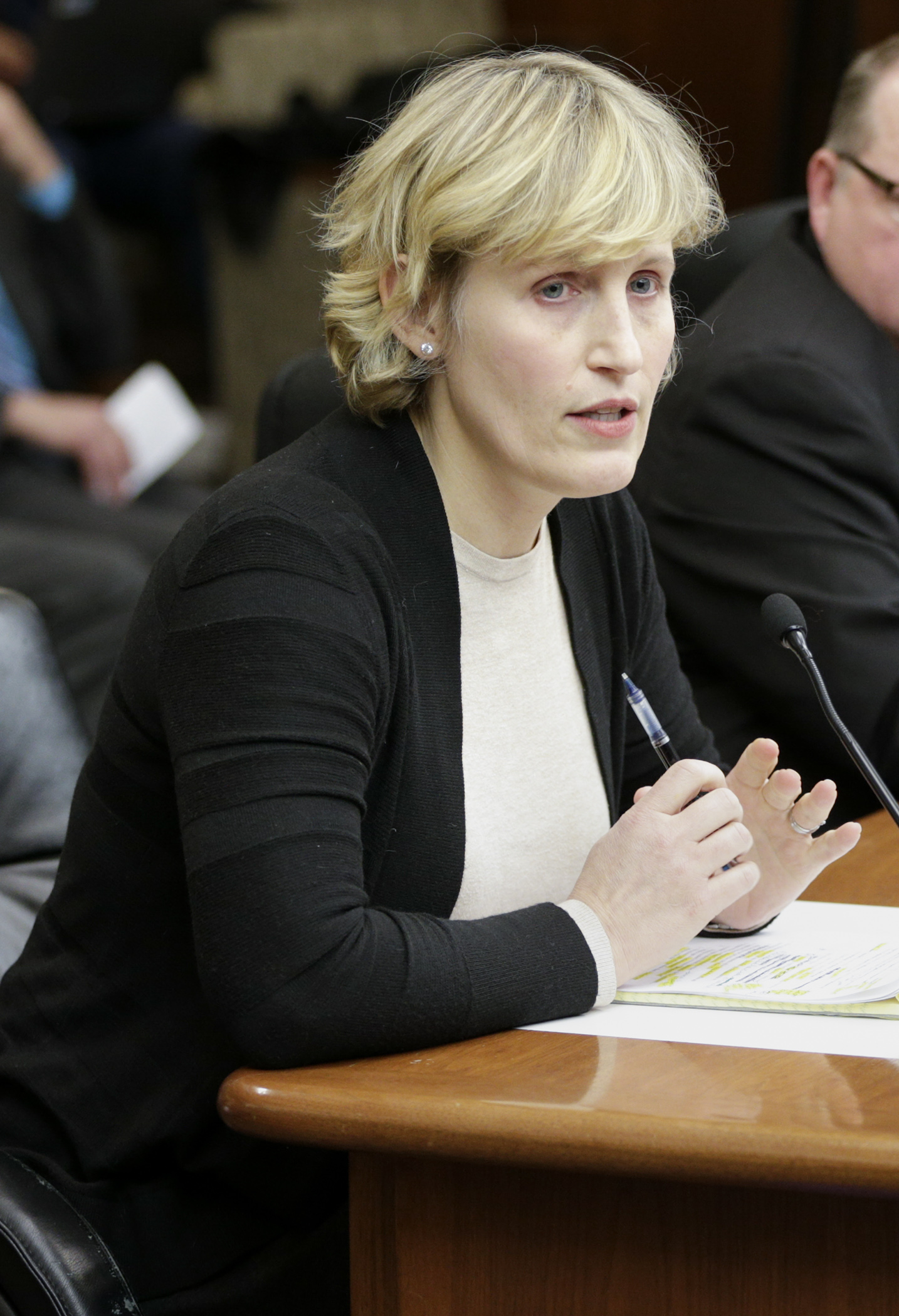 Attorney Andrea Jepsen expresses concerns to the House Education Innovation Policy Committee Feb. 16 about HF905 that would change school disciplinary actions. Photo by Paul Battaglia
But others see the proposal as over-reach, setting a "zero-tolerance" precedent that could further create negative outcomes for students and lead to the potential discrimination of minority students.
Emotional at times, multiple testifiers opposed the bill.
"I caution you to look at the data, because suspensions and expulsions are on the rise," said Andrea Jepson, an attorney with the School Law Center.
"If this turns into a zero-tolerance policy, it will create an unconstitutional statute. Inadvertent or accidental violations of rules could result in a loss of education. People will start lining up outside my office bringing lawsuits," she said.
Lawmakers are concerned with the potential disparity issues the bill could further perpetuate.
"I want you to think about the equity impact before you bring these bills to committee; we have to have policies that take this into consideration," Rep. Erin Maye Quade (DFL-Apple Valley) said.
She expressed concern that no equity impact statement has been completed.
"This is your equity impact statement, right here in this room. You have 15 white guys to support the bill, but you have people of color here telling you that they get suspended more often. We keep perpetuating these problems, and we are doing nothing to see if these proposals will help or hurt."
Kresha said as the bill moves forward he would look to adopt language that is amicable to both sides of the issue.
"I'm hoping we can compromise so that we can come back and actually solve the problem," he said. "If I can't get compromised language from each side, I will not bring this bill back to you."