Contentious since its creation, an education finance proposal that Gov. Mark Dayton has described as "appalling" is another step closer to his desk. Its approval ultimately holds the fate of voluntary pre-kindergarten programs across the state in its wake.
Passed 75-54, as amended, by the House Friday, HF890, the omnibus education finance bill, would increase the General Education Basic Formula funding by 1.25 percent over the 2018-19 biennium — nearly $207 million in additional funding — as well as create an office of early education and targeted compensatory revenue. Sponsored by Rep. Jenifer Loon (R-Eden Prairie), it would also delink non-public pupil, compensatory and transportation aid from the funding increase, while defunding statewide voluntary pre-k programs and closing the Perpich Center for Arts Education and Crosswinds Arts and Science School.
The bill now heads to the Senate, where Sen. Carla Nelson (R-Rochester) is the sponsor.
Some legislators applaud the formula increase, along with increases to school readiness programs and teacher loan forgiveness, as sound investments for education across the state. As a whole, the bill provides a $1.1 billion General Fund appropriation increase over 2016-17 biennium funding.
"We're putting an investment into Minnesotans, using the dollars in a way we feel is more flexible and serve our students better," House Speaker Kurt Daudt (R-Crown) said at a morning press conference.
"What we are doing is known nationally as the 'Minnesota Model,' and states are modeling after us," Loon said.
But opponents contend the 1.25 percent formula increase is well below the governor's 2 percent proposal and 2.5 percent increase offered by the House DFL. They also say the defunding of voluntary pre-k funding creates an inequitable "voucher" system of subsidizing public education that could ultimately lead to less options for low-income students and widen the achievement gap.
"Districts across the state will lose money to support students of low-income families; it shows that we are unwilling to commit to the state's youngest families and lowest-income children," said Rep. Jim Davnie (DFL-Mpls).
"This bill does not reflect the Minnesota values that we hold so dear," added Rep. Laurie Pryor (DFL-Minnetonka).
Contentious course for kindergarten
The process leading up to bill's passage has been a mending of many minds, with over 40 testifiers expressing either concerns or support during hearings before the House Education Finance Committee.
At a March 24 meeting, the committee approved amendments to the bill. One would require school districts to "accurately and efficiently" test water supplies for the presence of lead in buildings. Another would encourage school districts to review data at least once a year regarding the number of students being referred for emotional behavioral disorder evaluations.
But aside from amicable agreements, common ground regarding voluntary pre-K funding — for which Dayton called to increase spending to $175 million in his budget recommendations — could not be found.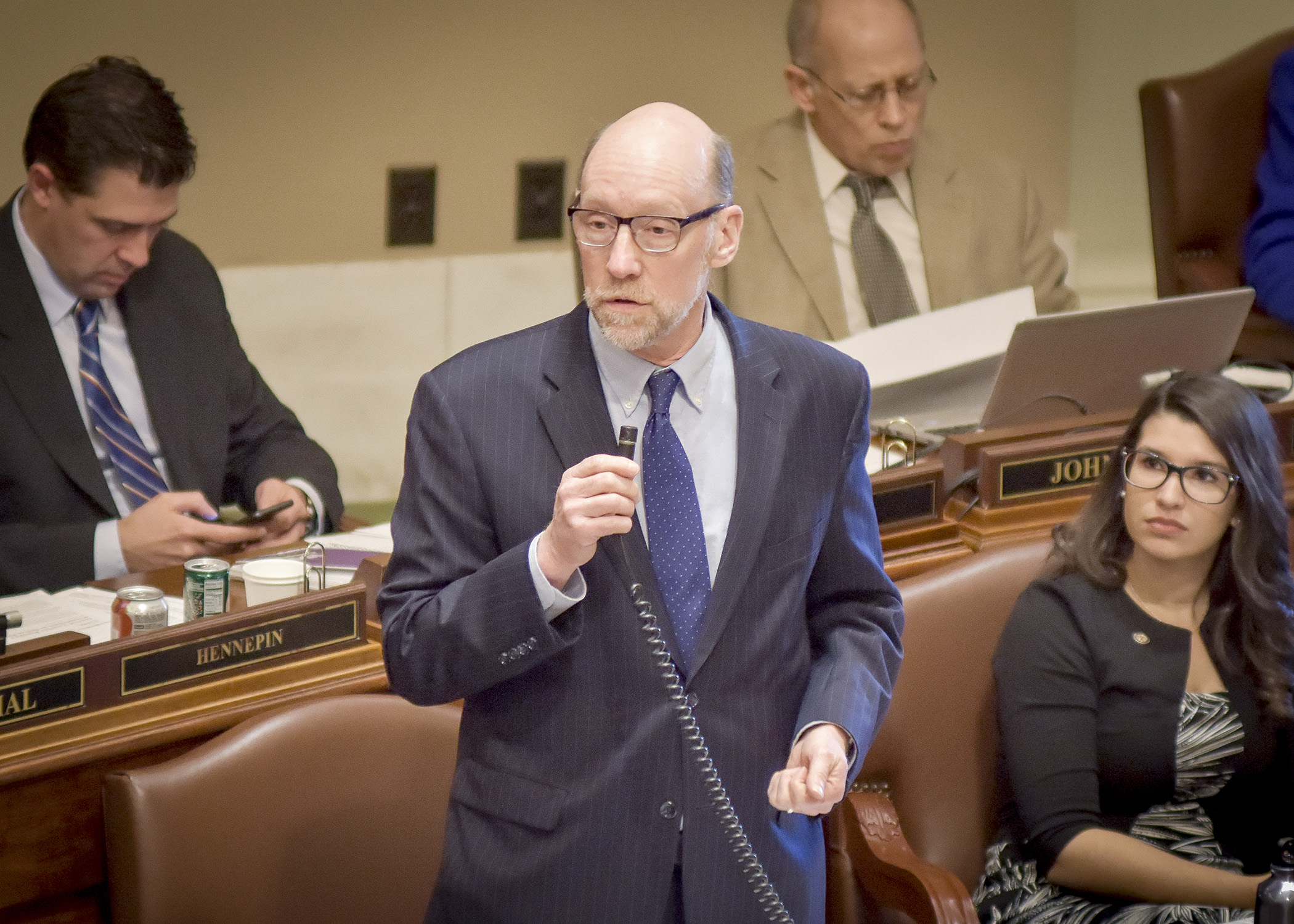 Rep. Jim Davnie speaks to the omnibus education finance bill on the House floor March 31. Photo by Andrew VonBank
Currently, $25 million in base funding serves 74 school districts and an estimated 3,300 4-year-olds.
Under the bill, it would go unfunded, replaced by $48 million in school readiness adjustment credits and $24.6 million for early learning scholarships.
"It's important to make resources go further; we have a limited number at the end of the day to do good things with. We're focused on early childhood education, but we're doing it in a way that funds children and not necessarily programs. ... We're going to attempt to target those who need it most," Loon said. "We're providing parents with scholarships to offer choice of programs for students. Let's reinforce choice, and trust parents to make those decisions."
Critics contend the move is one that could further create a divide in the public school system that is required to accept all students regardless of religion or disability.
"The very communities impacted by this, didn't ask for this. They are asking for more support," Rep. Mariani (DFL-St. Paul) said.
Concerns also arose around the use of standardized tests such as the Minnesota Comprehensive Assessment and funding for Native American tribal schools.
An amendment that would have allowed the Perpich Center for Arts Education to remain open was withdrawn prior to the House debate.