As a parent of three young children, Rep. Carlie Kotyza-Witthuhn (DFL-Eden Prairie) empathizes with families struggling to find affordable child care across the state — and the tough financial choices they have to make as result.
"I know what it's like firsthand to spend almost twice a mortgage payment on child care costs and to try to figure out whether to take unpaid time off work, or to spend much, if not all, of a paycheck on child care," she told the House Early Childhood Finance and Policy Division Tuesday.
Kotyza-Witthuhn sponsors HF1, referred to as the "Great Start for All Minnesota Children Act." The bill, as amended, would aim to close the opportunity gap, address the child care shortage and invest in early care and learning opportunities through several policy changes and $500 million in appropriations. The investments would be made by dipping into the state's projected $1.3 billion budget surplus.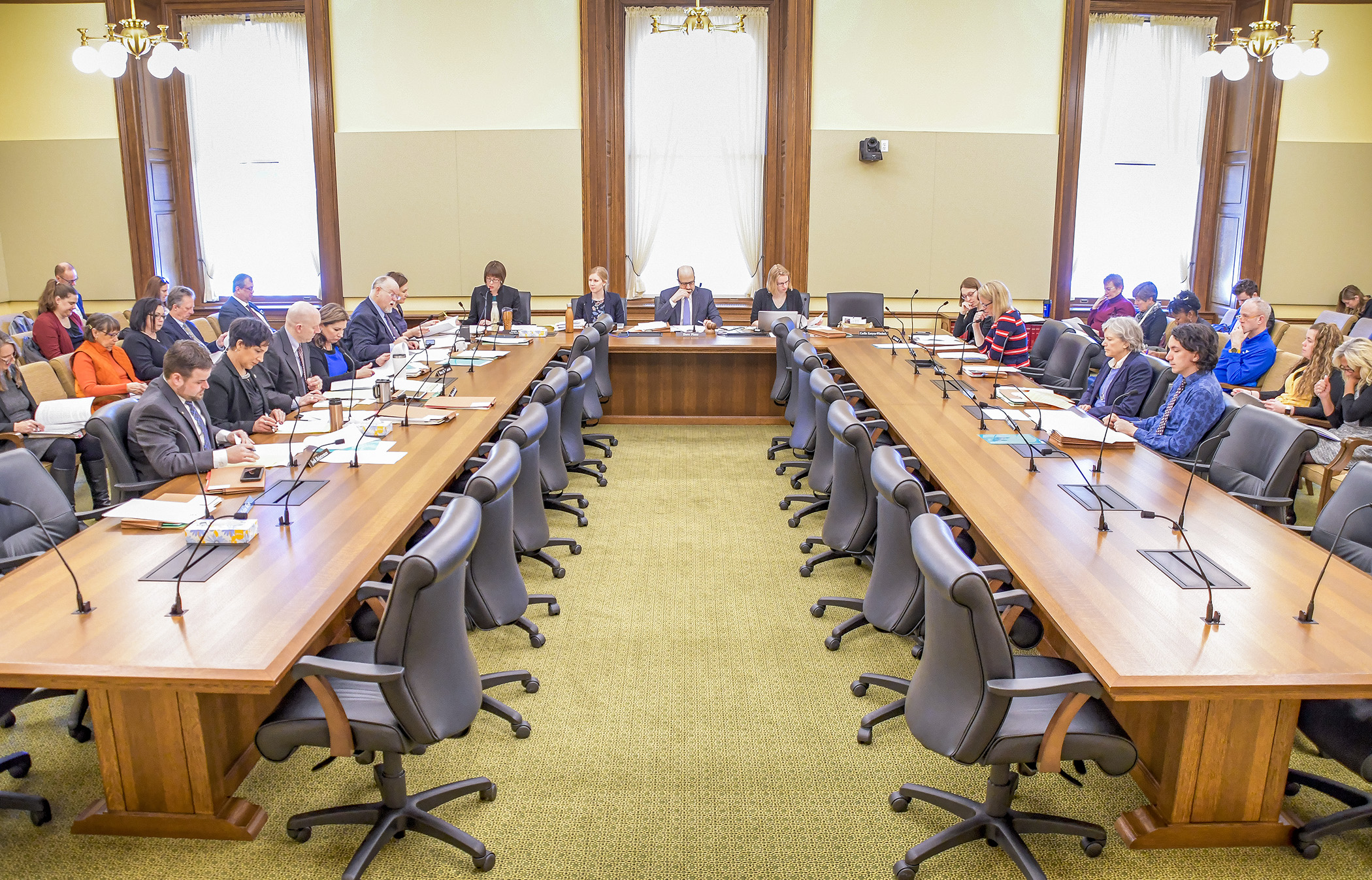 The House Early Childhood Finance and Policy Division listens to a walk-through of HF1 Tuesday morning. The bill would provide additional funding for early childhood programs. Photo by Andrew VonBank
The division heard from Kotyza-Witthuhn and other supporters Tuesday morning and took more testimony in the evening. The plan is to review amendments and take action on the bill Thursday.
Significant investments in Fiscal Year 2021 would include $190 million for early learning scholarships, $170 million to increase Child Care Assistance Program participation and $30 million for additional home visiting opportunities. The bill also aims to support child care providers through grants for improvements in delivery, and offering the opportunity for ongoing process improvement.
"It's clearer now than ever that the economics of child care won't work," Kotyza-Witthuhn said. "When we listen to parents and providers we hear there is not a one-size-fits-all delivery model that works for every family, and there are improvements that we can make in regulatory reform to support all types of providers."  
WATCH Tuesday morning's hearing on the bill
More than half a dozen supporters testified to various parts of the bill, sharing stories and statistics about how the bill would have positive impacts, including Jessica Row, a first-grade teacher at Stevenson Elementary School in Fridley.
Row supports components of the proposal that would maintain 7,160 voluntary pre-kindergarten spots through a $60 million appropriation during the 2022-23 biennium. The number of available seats will decrease to 3,160 starting in 2022 in the absence of legislative action.
"The kindergarten teachers in the district have expressed it's apparent which students have come to Pre-K and which have not," she said.
Additional appropriations in Fiscal Year 2021 would include:
$20 million to reduce the Basic Sliding Fee waitlist;
$10 million for child care provider grants to support economic development;
$4 million for MN Initiatives Foundations grants;
$3.5 million for First Children's Finance grants;
$2.5 million for Retaining Early Educators through Attaining Incentives Now;
$2.4 million for a statewide kindergarten readiness assessment;
$1.7 million for a Quality Rating and Improvement System evaluation;
$1 million for Family, Friend and Neighbor grants;
$850,000 for child care regulation modernization;
$500,000 for Teacher Education and Compensation Helps program; and
$150,000 for WomenVenture child care business training grants.
The bill also includes policy proposals that would:
require the Department of Human Services to arrange an independent evaluation of the state's Parent Aware Quality Rating and Improvement System, and to revise the system based on the results of that evaluation;
require the Department of Education to implement a kindergarten readiness assessment of all incoming kindergartners. It is currently permitted but not required;
make changes to the early learning scholarship eligibility requirements, including lowering the age of eligibility to include children from birth to age 3;
make changes to the Child Care Assistance Program rates to comply with federal requirements and establish a statewide rate based off of the most recent child care provider rate survey. The previous rate was based off the 2011 survey.