Representatives applauded and exchanged handshakes as celebratory whoops rang through the House Chamber after Associate Supreme Court Justice Paul Thissen administered the oath of office to the 133 representatives assembled there, surrounded by family and friends.
And with that, the Minnesota House of Representatives — minus one member out for a medical reason — officially opened the 91st legislative session Tuesday.
The DFL holds a 75-59 majority after picking up 18 seats in November elections, while the Senate narrowly remains in Republican control. The DFL last controlled the House during the 2013-14 biennium. Of the House's 39 new members, 37 are serving for the first time while two have served during previous sessions.
The Legislature typically sets the state budget during odd-numbered years – like 2019 – and is working with a projected $1.54 billion budget surplus as well as a weakened economic outlook, according to the November Budget and Economic Forecast.
Lawmakers are required to complete their work by Monday, May 20.
Secretary of State Steve Simon called the first House session of 2019 to order and presided over the proceedings until the formal election of House Speaker Melissa Hortman (DFL-Brooklyn Park). Hortman defeated House Minority Leader Kurt Daudt (R-Crown) 73-54 in a mostly party-line roll-call vote.
Election of Speaker of the House for 2019-20 legislative session 1/8/19
Six representatives passed on the vote, including four members of the newly formed New House Republican Caucus – Rep. Cal Bahr (R-East Bethel), Rep. Steve Drazkowski (R-Mazeppa), Rep. Tim Miller (R-Prinsburg), Rep. Jeremy Munson (R-Lake Crystal) – Rep. Eric Lucero (R-Dayton) and Rep. Alice Hausman (DFL-St. Paul). Rep. Robert Bierman (DFL-Apple Valley) was absent.
Hortman was first elected in 2005 and became House Minority Leader in 2017. Daudt served as House speaker for four years and has served in the House since 2011.
[WATCH: Election of the House speaker]
In her opening remarks, Hortman stressed the importance of bipartisanship, urging legislators to "take off the blue jerseys and red jerseys" and come together as "Team Minnesota."
"We all want the same thing for Minnesota. We all want it to be the best state it can be. And we're all here for the same reason … to serve Minnesotans," she said.
That doesn't mean that legislators should avoid conflict, however, she added.
"We are here precisely to have conflict," Hortman said. "It's an important part of the democratic process" and should be approached with "good humor and humility."
Debate on temporary rules
Adoption of Temporary Rules of the House for 2019-20 1/8/19
The first conflict on the House Floor emerged within an hour, after House Majority Leader Ryan Winkler (DFL-Golden Valley) proposed temporary rules intended to streamline the legislative process through changes in the House's committee structure, and to allow representatives to serve on subcommittees even if they do not serve on their overarching committee.
Daudt unsuccessfully proposed an amendment that would prevent those changes, saying the new measures would make it incredibly difficult for the public to keep track of bills or participate in the legislative process, creating "the ultimate legislative game of three-card monte."
[WATCH: House Floor debate on the Temporary Rules of the House]
Republicans speaking in support of Daudt's amendment also commented that the new rules would take away legislators' ability to represent their constituents by removing the guarantee that they could propose amendments and comment on every bill – regardless of which committee, subcommittee or division it's in.
Winkler replied that the changes have precedent, that the House Ways and Means Committee – chaired by Rep. Lyndon Carlson, Sr. (DFL-Crystal) – was not being given excessive power, and that sufficient notice will still be given to members of the public who want to testify on bills. He also criticized Republicans for obfuscating the legislative process while in the majority.
The House voted 74-59 against the amendment and adopted the temporary rules by the same margin.
Wrapping up (and getting started)
After the day's proceedings came to a close around 3:15 p.m., DFL and Republican leaders highlighted their plans and concerns for this session.
Daudt reiterated that the two major reasons Republicans opposed the resolution on temporary House rules are decreased transparency and the reduced ability of the public to participate in the legislative process.
Members should respect that Minnesotans have jobs and sometimes travel great distances to testify on bills being heard in committees, he said.
The resolution on temporary rules would not provide sufficient advance notice of committee hearings and therefore insufficient notice to the public, he said.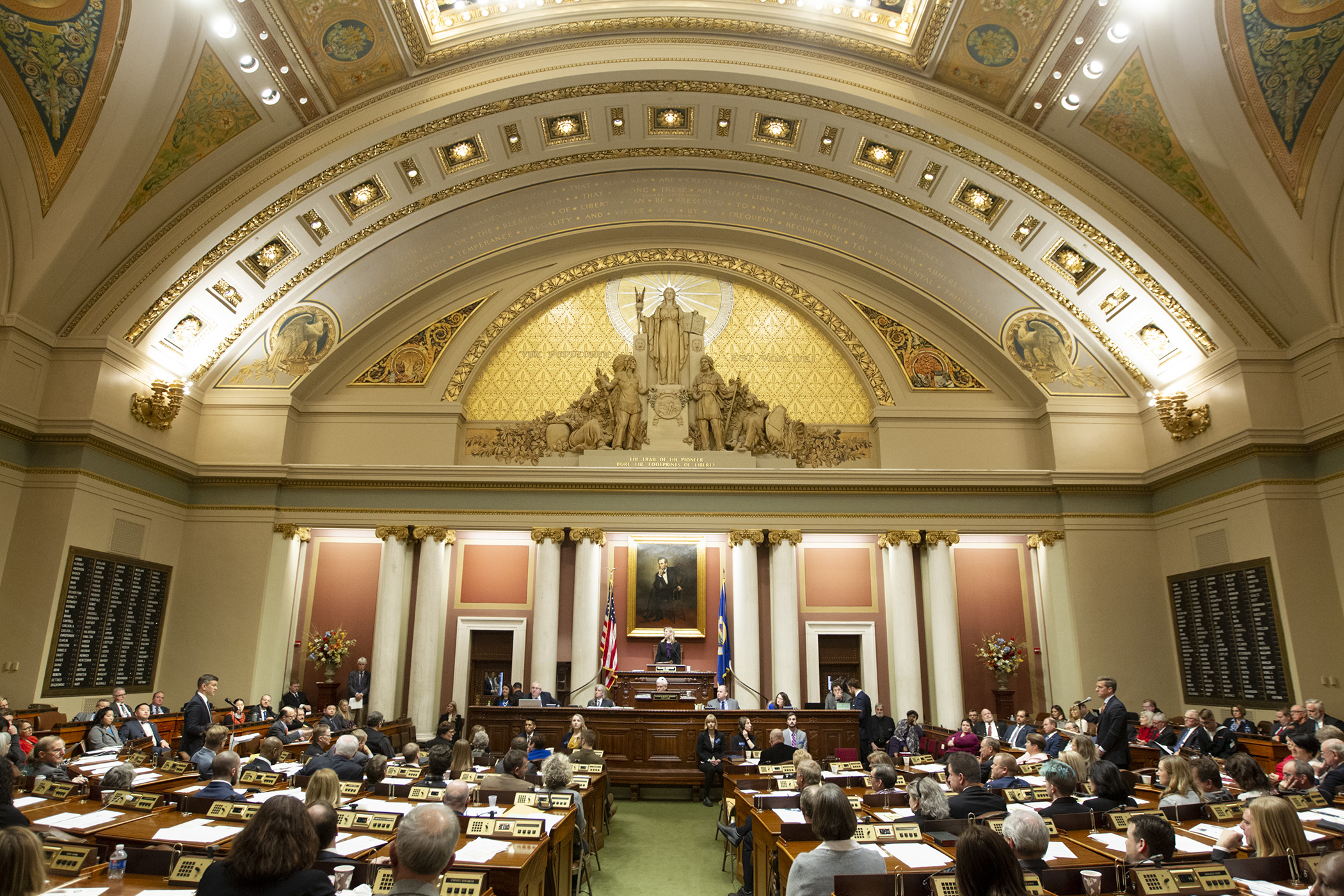 House Majority Leader Ryan Winkler, left, and House Minority Leader Kurt Daudt debate Daudt's amendment to the temporary rules of the House on the opening day of session. Photo by Paul Battaglia
"We just want to give Minnesotans a fighting chance to participate in the legislative process," Daudt said. "Unfortunately, Democrats have taken that away today."
On the suggestion the DFL may propose bills that would raise taxes, including the gasoline tax, Daudt said his caucus would fight hard against any vote to increase taxes.
"That's not the right move when we've got a surplus," he said. "Let's value Minnesotans and the work they've done to give us this surplus. Let's let them keep some of the bounty they've created with this great economy."
On the possibility that gun control measures might be introduced, Daudt said Republicans believe efforts should be taken to keep guns out of the hands of dangerous criminals. "But we also want to make sure that Minnesotans have access to guns and the ownership of guns to participate in the sporting activities which are a rich tradition here in Minnesota," he said.
For her part, Hortman said the first day went as she expected with ceremonial proceedings and a transition period as new members adjusted to their roles.
[WATCH: House Republican media availability following Tuesday's floor session]
"I think you saw some good humor in the debate. So people shouldn't think that just because we should avoid being partisan we shouldn't have spirited debate," she said. "I understand Rep. Daudt has some strong feelings and we'll hear about those."
Hortman said the DFL will be unveiling its first 10 bills tomorrow, which will address education, health care, gun measures and economic development. She said her caucus is focusing on two categories of bills, shorter and longer term, with the initial 10 bills likely to be discussed throughout the session.
[WATCH: House DFL media availability following Tuesday's floor session]
"The other categories of bills we're looking at are things that should have been done last session but they were jammed in a 990-page bill," she explained. "Many of those really simple things could have gotten done and should have gotten done, but were vetoed because there were controversial items in that very large bill."
Updating Minnesota's tax code to conform to the federal tax code that went into effect in 2018 will also be a priority this year. However, Hortman indicated this would not be a matter of urgency. 
"The Minnesota Department of Revenue has done excellent work to get us ready to file our taxes this year. So there's no rush on that," she said. "It's definitely important but it's not urgent that we move on that." 
Routine business of the day included an opening prayer by Dr. Cynthia Bailey Manns of St. Joan of Arc Catholic Community, the Pledge of Allegiance, roll-call, the election of House officers, and the assignment of desks. The House also held a moment of silence in memory of longtime Iron Range legislator Tom Rukavina, who died Monday. A celebration of his life is expected during Thursday's 11:30 a.m. floor session.
House Public Information Services' writers Rachel Kats and Tim Walker contributed to the story