Social distancing has meant that activities like working, learning and receiving health care have moved online. As a result, having reliable internet access is more critical than ever.
Given this increased need and demand for internet connectivity, the House Greater Minnesota Jobs and Economic Development Finance Division revisited the topic of border-to-border broadband during a remote meeting Monday.
"Working, learning or receiving health care remotely is impossible without it. There is considerable need for broadband in Greater Minnesota where thousands of households are still unserved," said Rob Ecklund (DFL-International Falls).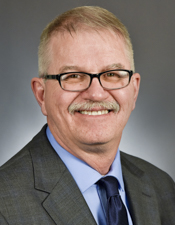 Rep. Rob Ecklund
Sponsored by Ecklund, HF3029, as amended, was approved 14-1 by the division and now heads to the House Ways and Means Committee. The companion, SF3049, is scheduled to be heard April 29 by the Senate Agriculture, Rural Development and Housing Finance Committee. Sen. Rich Draheim (R-Madison Lake) is the sponsor.
The proposal would appropriate $10 million in fiscal year 2020 to establish and implement a distance learning broadband access grant program and a telemedicine equipment reimbursement grant program.
"Schools will remain closed for this school year, and schools have purchased technology to allow students to have internet access at home," Ecklund said. "This amendment allocates $8 million so that schools can apply for reimbursement."
The remaining $2 million would be used to reimburse health care providers that have purchased equipment to remotely meet the needs of patients during the pandemic.
The proposal would also appropriate $10 million in fiscal year 2021 to the Border-to-Border Broadband Development Grant Program, which provides funding to incentivize existing broadband providers to build infrastructure in areas of the state that are unserved and underserved. Any unused funds for the distance learning and telemedicine grants would revert back to the broadband program.
To date, over 92% of Minnesotans have access to broadband internet, however, more funding is needed if the state wants to achieve its goal of providing every household and business with access by 2022, according to Angie Dickison, broadband development manager with the Office of Broadband. 
Rep. Paul Anderson (R-Starbuck) supports the proposal but asked for clarification on how the grants would be awarded.
"Can we be assured that our smaller districts, that probably need this the most, will be part of the grant process and it won't be just on who gets their grant applications in first?"  
Dickison said the intention is to disperse the funds as "fairly and evenly" as possible across the state. Ecklund indicated there will be an amendment offered as the bill moves through the committee process that will clarify that language.