For the second time this session, Rep. Rob Ecklund (DFL-International Falls) presented HF14 to a remote meeting of the House Industrial Education and Economic Development Finance and Policy Committee.
And both times he couldn't do it from his home near the Canadian border because his internet connection is so poor.
"Broadband should no longer be a luxury; it's a necessity," he said.
The Ecklund–sponsored bill seeks $120 million in the 2022-23 biennium to bring high-speed broadband internet access to unserved and underserved areas of Greater Minnesota.
The committee approved the bill 13-0 Wednesday and sent it to the House Ways and Means Committee. The companion, SF22, sponsored by Sen. Tom Bakk (I-Cook), awaits action by the Senate Agriculture and Rural Development Finance and Policy Committee.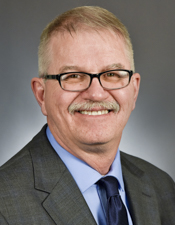 Rep. Rob Ecklund
Funds in the Border-to-Border Broadband Development Grant Program, established by the Legislature in 2014, are used primarily for grants to acquire and install middle- and last-mile infrastructure for high-speed broadband internet service in unserved and underserved areas.
"This program has effectively targeted funding toward the most difficult and expensive areas to serve," said Anna Boroff, executive director of the Minnesota Cable Communications Association.
According to the nonpartisan House Research Department, the border-to-border broadband fund received $20 million in three of the past four fiscal years. It previously received $10.6 million in fiscal year 2016 and $35 million in fiscal year 2017.
The COVID-19 pandemic has brought into sharp focus the need for speedy and stable internet connections. For example, Ecklund said it is an absolute necessity for students learning remotely and patients visiting with doctors using telemedicine technology.
"Broadband is the critical infrastructure that allows Minnesotans to work, learn, receive care, and communicate with friends and family," said Vince Robinson, chair of the Minnesota Rural Broadband Coalition.
He added that the effects of the pandemic are especially harsh in parts of Greater Minnesota without good broadband connections.
"Had we been making stronger investments in the past, many of our communities could have avoided some of the devastating circumstances that they faced," he said.
The state has short- and long-term goals for expanding broadband access in Minnesota.
The first goal is that by 2022, all businesses and homes will have access to high-speed broadband that provides minimum download speeds of at least 25 megabits per second and minimum upload speeds of at least three megabits per second.
The second goal is that by 2026, all Minnesota businesses and homes will have access to at least one provider of broadband with download speeds of at least 100 megabits per second and upload speeds of at least 20 megabits per second.
Past funding from the grant program has led to significant progress toward reaching those goals, Boroff said.
Letters of support also came from the League of Minnesota Cities, Minnesota Farm Bureau, Minnesota Farmers Union and Minnesota Rural Broadband Coalition.