The first special session of 2021 convened Monday as lawmakers gathered, largely in person, to resume efforts to pass the two-year budget needed to fund the state's government that would shut down if an agreement is not reached before July 1.
Four weeks have passed since the Legislature adjourned its 2021 regular session May 17, when legislative leaders agreed with Gov. Tim Walz on the size of the roughly $52 billion budget and the monetary targets needed to negotiate the many unfinished budget bills.
But little has happened in the public eye since then, although agreements have reportedly been reached on the higher education, commerce and energy, and agriculture budgets, along with language to distribute Legacy funds. And deals in several others areas appear close.
However, talks are still underway on more contentious areas, such as public safety, and it remains to be seen whether the ongoing negotiations will remain behind the scenes.
During a morning press conference, House Speaker Melissa Hortman (DFL-Brooklyn Park) said she expects the special session to last seven to 10 days, with members likely to convene every day except Father's Day this Sunday.
"I don't think we'll be close to June 30, I would expect we'll be done days before that," she said, adding that agreements on housing and education are nearly finished, and that the tax bill has been wrapped up but will likely be the last to pass.
"The major power or leverage of the House of Representatives is a tax bill must originate in the House, so we will withhold the tax bill until all of our expectations are met in the budget negotiations," Hortman said.
The Senate will likely take the same position with the state government finance bill, which must start in that body, she said.
Motion to take up resolution fails
With the governor's extension Monday of his peacetime emergency powers for another 30 days, the Legislature was required to return and be given the opportunity to vote to rescind those powers.
But as was the case during many of the seven special sessions held in 2020, a motion to bring up a House resolution to end those powers was defeated 68-64.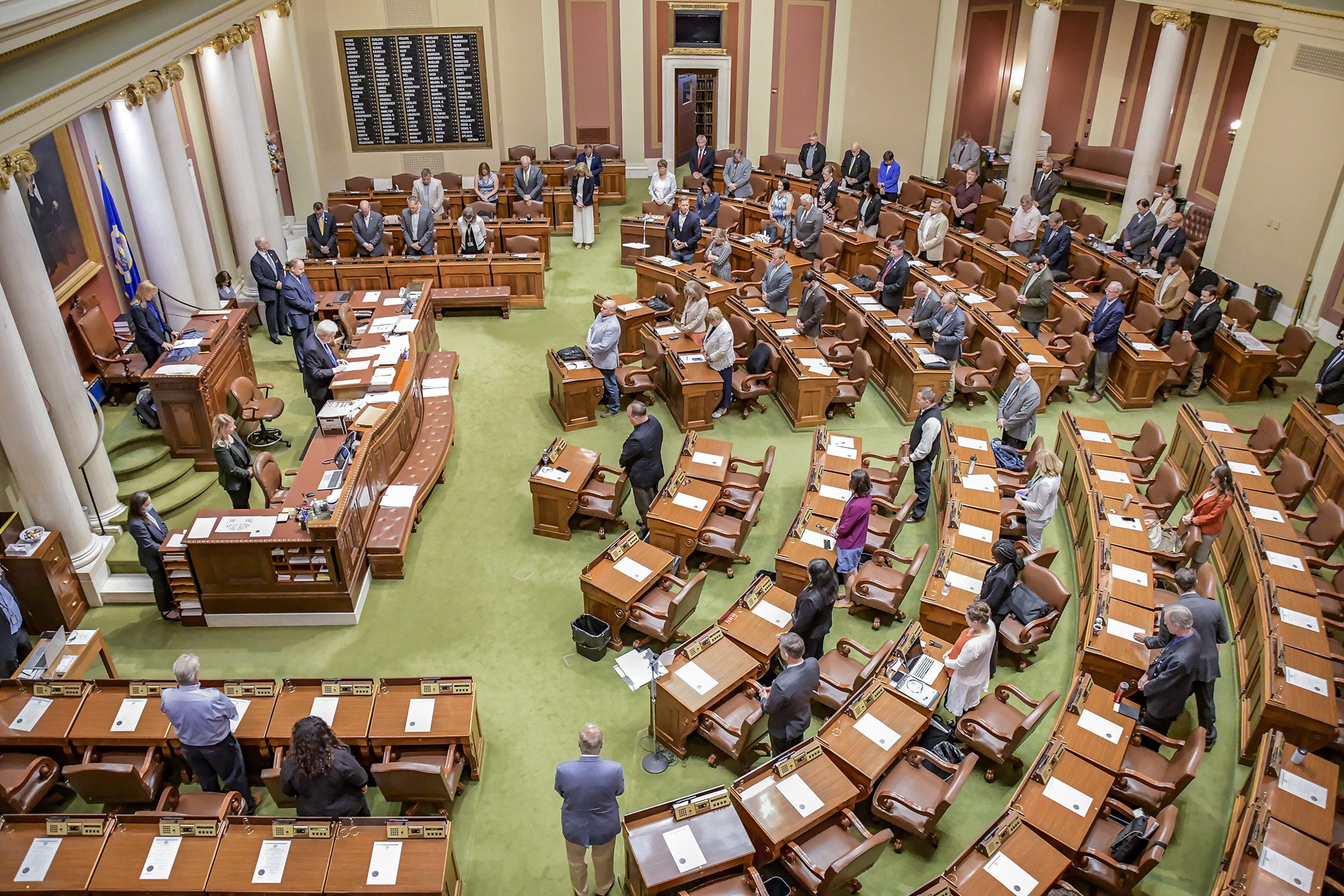 Members present in the House Chamber stand for the invocation at the start of the 2021 First Special Session. Photo by Andrew VonBank
House Minority Leader Kurt Daudt (R-Crown) said statistics show the pandemic is winding down and there is no reason for the governor's powers to continue.
"We are in this room together and that is all the evidence you need," Daudt said. "… Everybody, save one person, realizes the pandemic is over … our governor."
But House Majority Leader Ryan Winkler (DFL-Golden Valley) said the powers are still needed to ensure federal funding continues for the Supplemental Nutrition Assistance Program that helps provide food to those who need it, to respond quickly to unforeseen health emergencies and to wind down the emergency in an orderly fashion.
Winkler said DFL members would be willing to work with Republicans on legislation to address those issues and bring an end to the emergency powers more quickly, but several Republican members said proposals they have made to do just that have received no reply. 
For her part, Hortman said she thinks the peacetime emergency will likely end "sometime in the not-too-terribly-distant future," perhaps in August. But she also signaled the likelihood of a July special session when another 30-day extension could come.
"I would say don't make plans for July 14," Hortman said.