In the upcoming 2023-24 biennium, House Republicans will be led by Rep. Lisa Demuth (R-Cold Spring).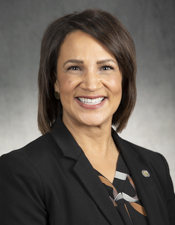 Rep. Lisa Demuth
Entering her third term, Demuth was elected by fellow caucus members Friday to be the minority leader. A deputy minority leader is to be announced later.
"My message to the caucus is we need to collaborate and work together well. We have strengths … and we look forward to pulling on all of those. Minnesota has a lot of diversity across the state in the strengths that we have. We each represent different districts. And, so we can learn from each other and represent in the best way possible," she said with many colleagues standing alongside.
Demuth takes over from Rep. Kurt Daudt (R-Crown), who served in the role the past two biennia and was speaker from 2015-18.
She is biracial, but it is not something Demuth uses as a first reference when introducing herself.
"I introduce myself who I am, what I bring and what I can learn. And then yes, I happen to be a black woman born in the late-60s in my district," she said.
Demuth currently serves on the House Early Childhood Finance and Policy, Education Finance, and Health Finance and Policy committees. 
In what many people expected to be a strong year for Republicans, the House DFL kept its 70-64 majority in Tuesday's election. The DFL also took over the Senate, 34-33.
"It was disappointing, but here we are, and we're ready to get to work and to do what Minnesotans need for us," she said.
[MORE: View the 2022 Election Directory for the 2023-24 House]
With control of both bodies, the DFL could try to push through ideas that failed to pass in a divided Legislature such as legalizing recreational marijuana and codifying current abortion laws.
"This is the first time our new members have been in caucus, and so there will be continuing caucus discussions and conversations going forward," Demuth said. "Again, tax relief, Minnesota needs to see some tax relief, definitely in the public safety area."
House Speaker Melissa Hortman (DFL-Brooklyn Park) was chosen Thursday by her fellow DFL caucus members to continue leading the body. Rep. Jamie Long (DFL-Mpls) was named majority leader; the majority whip will be Rep. Athena Hollins (DFL-St. Paul).
The 2023 session is scheduled to begin Jan. 3. Lawmakers must complete their work by May 22.