Kevin Jensvold believes a flag and seal should represent the morals and values of a state's citizens.
As for the current Minnesota ones?
"Problematic," says Jensvold, chair of the Upper Sioux Community. "I just lay it out there as the simple truth when it is seen from eyes that are different from most of the immigrants."
The state seal is designed to be rich in symbolism, such as cultivated ground representing agriculture and a tree stump to represent the timber industry. It also depicts a white farmer tilling the soil near a river while a Native American on horseback rides toward the setting sun.
"It does depict every moment of pushing us further and further away," Jensvold said. "… There's only certain things we can do and that's just to bring attention to difficulties that are posed. The truth, such as it is, just sits there. It is neither this nor that. It simply exists in this day and age. None of us helped to create those things, but we can be here to change those things."
A State Emblems Redesign Commission is being called for to "develop and adopt a new design for the official state seal and a new design for the official state flag. The designs must accurately and respectfully reflect Minnesota's shared history, resources, and diverse cultural communities. Symbols, emblems, or likenesses that represent only a single community or person, regardless of whether real or stylized, may not be included in a design."
House state and local government hears bill to replace MN's current flag and seal 2/21/23
Designs certified by the commission would replace the current flag and seal, effective May 11, 2024 — Statehood Day.
As amended, HF274 was approved Tuesday by the House State and Local Government Finance and Policy Committee via voice vote with no audible dissent and sent to the House Ways and Means Committee.
In addition to imagery on the seal that is "genocidal toward Native Americans," the flag's aesthetics are poor, said Rep. Mike Freiberg (DFL-Golden Valley), the bill sponsor.
Per the secretary of state's office, "The flag is royal blue with a gold fringe. Pictured in the center of the flag is the state seal. Three dates are woven into a wreath of the state flower: 1858, the statehood year; 1819, the year Fort Snelling was established; and 1893, the year the original flag was adopted. Nineteen stars ring the wreath, symbolizing the fact that Minnesota was the 19th state to enter the Union after the original 13. The largest star represents the North Star and Minnesota."
The North American Vexillological Association rates Minnesota near the bottom among state flags.
We want something that when someone sees it, they know it is Minnesota, not like the current "cluttered" state flag, said Rep. Peter Fischer (DFL-Maplewood).
"Our state flag is honestly not a symbol that we should be flying. It has no pride. Nobody takes pride in the Minnesota state flag," added Nathaniel Dennis, a student at Winona Senior High School. "Whether its rural Minnesota, urban Minnesota, white, Native American, Latino, everyone should feel pride in the state flag."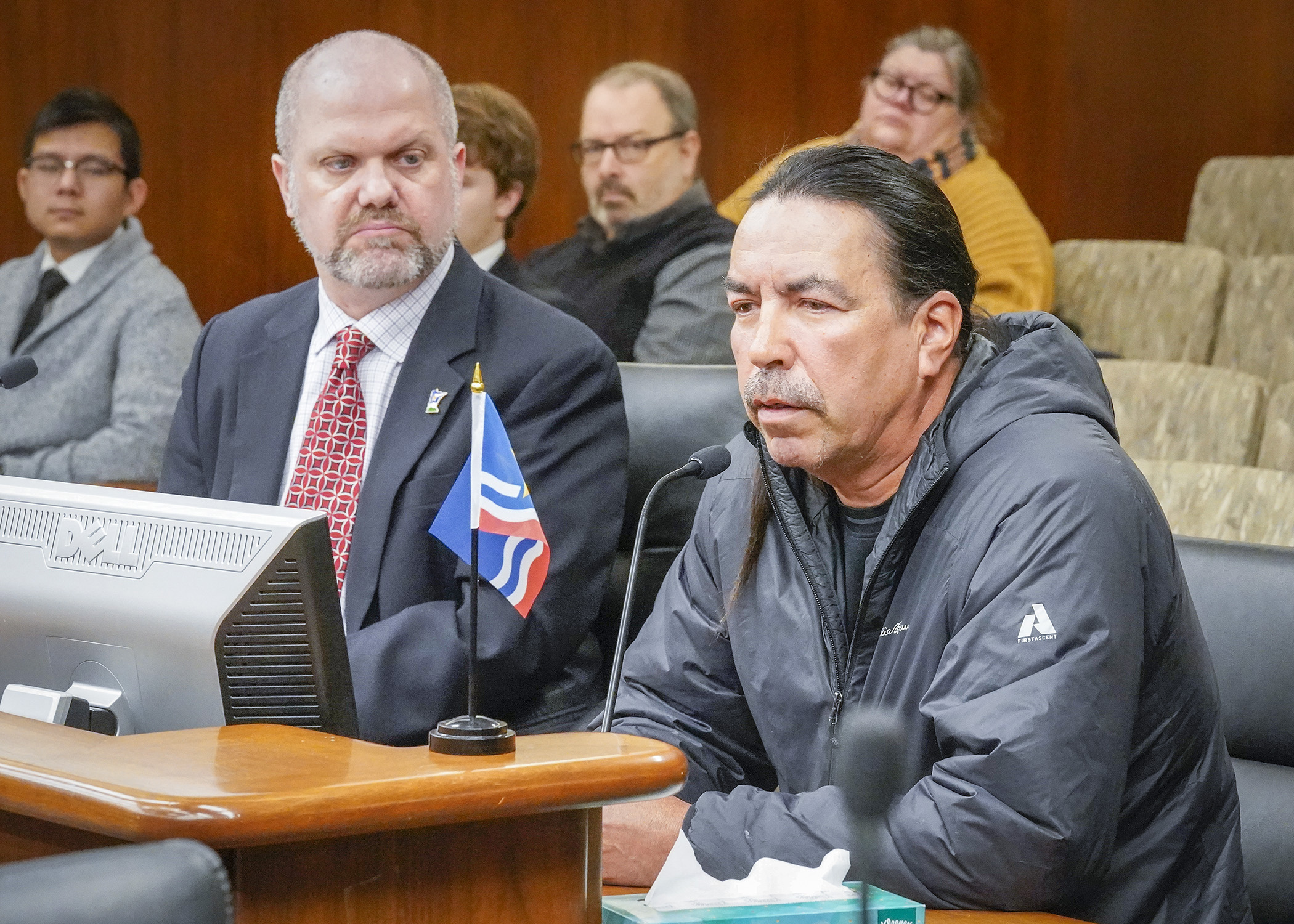 Upper Sioux Community Chair Kevin Jensvold testifies Tuesday before the House State and Local Government Finance and Policy Committee in support of a bill sponsored by Rep. Mike Freiberg, left, that would create a commission to redesign Minnesota's official state flag and seal. (Photo by Andrew VonBank)
Minnesota's flag was altered in 1957 and again in 1983 when the state seal was standardized.
The 13-member commission would include three gubernatorial appointed public members; one member appointed from each of the state's three ethnic councils — Council on Asian-Pacific Minnesotans, Council on Latino Affairs, Council for Minnesotans of African Heritage; one member representing the Dakota community and one representing the Ojibwe community; and leaders or their designee from the secretary of state's office, Minnesota Historical Society, Capitol Area Architectural and Planning Board, Minnesota Arts Board, and Explore Minnesota Tourism. Four legislators would be ex-officio, non-voting members.
Letters of support were submitted by the Bois Forte Reservation Tribal Council, Fond Du Lac Reservation Business Community, and Grand Portage Reservation Tribal Council.
In a letter of opposition, Stephanie Chappell, of Glencoe, questions the makeup of a committee that lacks "scores of others" not represented by a government council.
"Rebranding a state under pressure from nonprofits and select demographics is unfair," she wrote. "The current state flag and seal represents Minnesota's beauty and placement at the head of the Mississippi by inclusion of St. Anthony Falls, incorporates the United States Constitutional rights including the right to keep and bear arms, optimal use of natural resources and creativity to advance technologies in milling for the benefit of the world while finding a way to co-exist side-by-side from one day to the next."