Lawmakers representing both chambers agreed Wednesday on a negotiated $327 million insurance premium relief package that would, among other reforms, allow for-profit HMOs to enter the state-run individual insurance marketplace.
The 10-member conference committee – eight Republicans and two DFLers – unanimously approved HF1/SF1*, as amended. They began work Tuesday, after the two chambers couldn't agree on the legislation's language late last week.
Rep. Joe Hoppe (R-Chaska), sponsor of the House bill, said legislators "wound up with a good, final product."
Sen. Michelle Benson (R-Ham Lake), sponsor of the Senate version, said after the meeting the bill would be on the Senate Floor Thursday morning. The House expected to consider it Thursday afternoon.
Members of the conference committee on HF1/SF1* begin their work on a compromise bill Jan. 24. Photo by Paul Battaglia
After the meeting, Minnesota Management and Budget Commissioner Myron Frans said Gov. Mark Dayton would look at the bill. "My guess is that if he doesn't find anything he objects to, he'll sign it."
The compromise package includes a number of reforms Republicans wanted, along with mechanisms and funding levels Dayton and DFLers have pushed.
Included in the agreement is $312 million in 25 percent across-the-board subsidies for Minnesotans who apply for relief. Under the plan, the state would give insurance providers the funds, who would provide the relief to individuals. Republicans initially wanted Minnesota Management and Budget to cut the checks, but after pushback from Dayton and Frans conferees decided private insurance companies would be better suited for the program.
Set aside is an additional $15 million to cover residents transitioning from one health care provider to another in the individual market. The plan includes reimbursing insurance providers who enlist customers with acute conditions, life-threatening mental or physical illnesses, and pregnancy beyond the first trimester.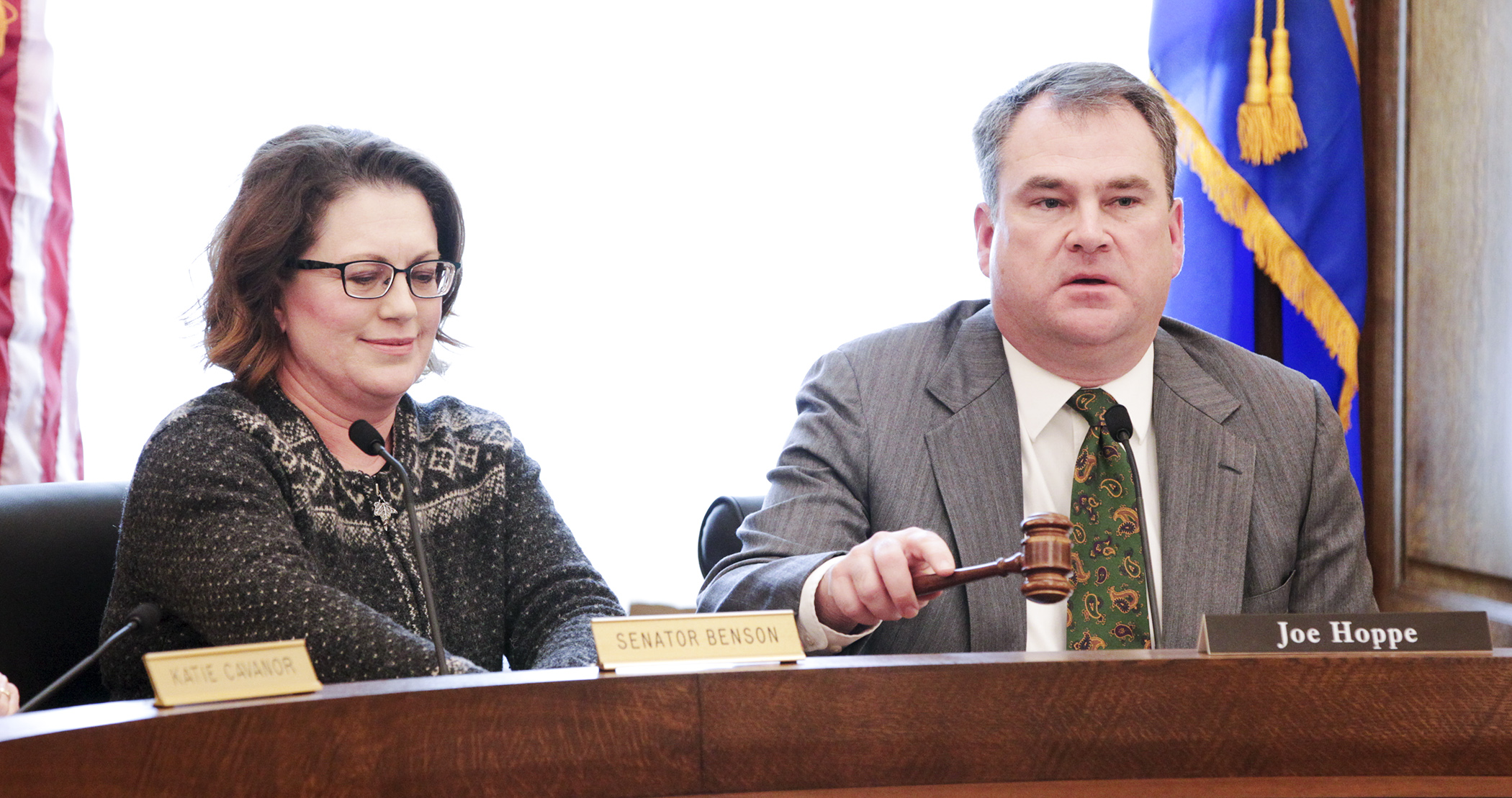 Rep. Joe Hoppe gavels the conference committee on HF1/SF1* to a close after members came to a compromise agreement Jan. 25. Hoppe and Sen. Michelle Benson, left, co-chaired of the conference committee. Photo by Paul Battaglia
Not included in the package is a reform House Republicans added last week: allowing health insurance providers to offer any plan they want, despite what is required under the federal Affordable Care Act.
Reforms include opening up the nonprofit-dominated individual marketplace to for-profit HMOs. It's an idea Republicans are keen to but DFLers have expressed concerns. According to Hoppe, this shift in the marketplace is in response to a perceived change at the federal level.
"What we want to do is position ourselves for whatever comes out of Washington – and we don't know what that's going to be," Hoppe said.
There is a provision providing stop-loss coverage, a measure Hoppe said will help small businesses who self-insure.
The package also includes an agricultural cooperative health plan, which Rep. Tim Miller (R-Prinsburg) last week suggested would aid farmers and agribusinesses seeking a joint effort in insurance coverage.