A longstanding political battle between House Republicans and DFL State Auditor Rebecca Otto continued Wednesday, with Otto defending a lawsuit that alleges legislators unconstitutionally stripped her office of some duties – and those same lawmakers are pushing for ways to recoup what the lawsuit has cost taxpayers.
Otto, whose office oversees both state and local government spending, is suing the state and three counties over a 2015 law allowing county governments to use private auditing services instead of relying on the state auditor's office. Since DFL Gov. Mark Dayton signed the law, 44 counties in Minnesota have contracted with outside auditors.
Now, Republicans are using the legislative process to recover the the $251,788 that Otto's portion of the lawsuit has cost taxpayers so far, along with tens of thousands of dollars incurred by Becker, Ramsey and Wright counties, which are also named in the suit.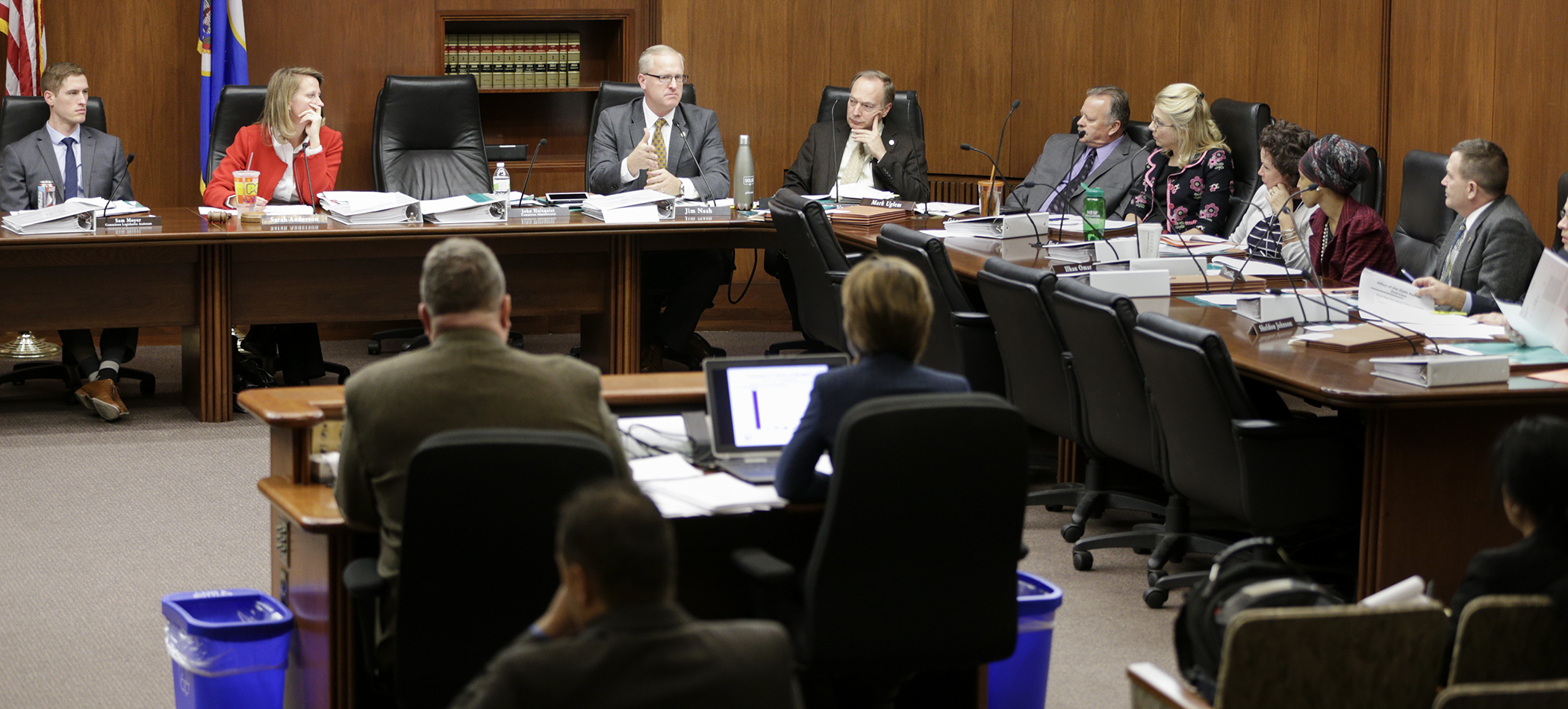 Rep. Jim Nash asks State Auditor Rebecca Otto a question during her budget presentation to the House State Government Finance Committee Feb. 15. Photo by Paul Battaglia
During a contentious two-and-a-half-hour meeting of the House State Government Finance Committee, Otto repeatedly defended her lawsuit but was scant on details. Committee leaders pressed Otto about services, programs or staff affected by the lawsuit, and Otto revealed that she had transferred money from the pension division – an arm that oversees some 700 publicly funded pensions – to cover the costs, along with what she called "unexpected salary savings."
"If the people of Minnesota are not satisfied with me being able to get to work for them or are not happy with the quality of the work, then they cannot elect me," Otto said. "And so Minnesota elected me again – it's my third term – and we're happy with the work that I've been able to accomplish on their behalf."
Otto's office is appealing an earlier district court decision that upheld the 2015 law. Oral arguments in the appeals court are set for March 9. Asked by legislators if she would take the case to the Minnesota Supreme Court if the Court of Appeals rules against her lawsuit, Otto responded, "I guess I'm just going to take it one day at a time, so we'll see."
Addressing the costs
The three proposals aimed at the auditor's office and the lawsuit's costs are:
HF295, sponsored by Rep. Jim Nash (R-Waconia), would require the state auditor's office to pay for the lawsuit through a limited account and prohibit interoffice transfers to cover costs. It would also freeze rates the auditor charges to local governments for their audits. There is currently no Senate companion.
HF458, sponsored by Rep. Eric Lucero (R-Dayton), would put similar spending restrictions on Otto's office, but would also require reimbursement to Becker, Ramsey and Wright counties for the legal fees and expenses associated with the litigation. Its companion, SF1068, sponsored by Sen. Mary Kiffmeyer (R-Big Lake), awaits action by the Senate State Government Finance and Policy and Elections Committee.
HF807, sponsored by Rep. Paul Marquart (DFL-Dilworth), would allocate $150,000 to reimburse Becker and Wright counties through a grant from the Department of Employment and Economic Development. It has no Senate companion.
The Nash- and Lucero-sponsored bills were held over for possible omnibus bill inclusion. No action was taken on the Marquart-sponsored bill.
Instead of the three counties shouldering their individual costs of the suit, Otto said she supports the idea of the entire state paying for it.
Lawsuit 'is not Minnesotan'
Brian Asleson, chief deputy attorney in Wright County, said the lawsuit has cost taxpayers there an estimated $42,000 and more is expected. Becker County Commissioner Barry Nelson told lawmakers his county has incurred a similar amount. The lawsuit, Nelson said, "is not Minnesotan and it's not who we are."
Nash said his bill takes Otto "at her word" of being a "financially conservative" and "frugal" constitutional officer who "scrimps" where necessary to provide watchdog-like services to taxpayers.
"It's time to put an end to this, and if the auditor is truly able to scrimp and save on this in her budget, I'd ask her to do so," Nash said.
Otto is requesting an additional $366,000 in spending over the next two years for staff retention and technology spending. The state auditor defended the increase as a way to keep up with a rapidly evolving digital world and to keep up with the auditing work tasked to her office.
In an earlier written response to the committee, Otto's office said a 10 percent budget reduction would mean cutting five full-time employees. On Wednesday, Otto called the Republican proposals, which would greatly limit her budget, an "attempt to tie my hands to work and defend for our constitution," adding later they are "very disturbing."