A session many legislators and other Capitol observers fear could be contentious was just that on day one.
Things were harmonious when the three newest House members were introduced. Rep. Peggy Flanagan (DFL-St. Louis Park), Rep. Rob Ecklund (DFL-Int'l Falls) and Rep. Chad Anderson (R-Bloomington) each won special elections since the House last met at a June 2015 special session.
When a moment of silence was held for former Rep. David Dill (DFL-Crane Lake), a peep could not be heard. Dill passed away Aug. 8 after a battle with cancer.
Then the pleasantries subsided — almost 13 minutes after the House was gaveled in.
Iron Range unemployment benefits
A motion to suspend the rules and take up HF2032/SF209* failed on a 71-59 vote after more than two hours of debate.
The bill would provide a 26-week extension of unemployment benefits for Iron Range iron ore industry workers retroactive to July 1, 2015, and also reduce a tax Minnesota businesses pay into the unemployment insurance trust fund that provides the benefits by about $272 million. That fund has about a $1.6 billion surplus.
House Floor session 3/8/16
Ninety "yes" votes were needed because according to House Rule 5.01, "The concurrence of two-thirds of the whole House is required to suspend or amend a Rule of the House, except that any amendment to the Rules reported by the Committee on Rules and Legislative Administration may be adopted by a majority of the whole House."
"If you delay action on this bill today, you're going to end up voting on it soon," said Rep. Pat Garofalo (R-Farmington), the bill sponsor. "What logic is there in delaying the vote?"
If the proposal is ultimately passed in its current form, House Speaker Kurt Daudt (R-Crown) will have broken his word to pass a clean bill, said Rep. Carly Melin (DFL-Hibbing).
"I'd ask that you have a little compassion here. There is no reason why you need to attach corporate tax cuts to extending unemployment benefits," she said.
On Nov. 12, Gov. Mark Dayton asked legislative leaders to consider a special session to help hundreds of laid-off Iron Range steelworkers whose unemployment benefits had run out. That number has since increased.
Rep. Tom Anzelc (DFL-Balsam Township) said the Iron Range and northern Minnesota is in "a crisis."
"We need you today," he said, his voice rising. "We need you to help us extend unemployment benefits, and let's leave other issues relative to the trust fund, and insurance premiums and other issues for another day." 
Until last Thursday's meeting of the House Job Growth and Energy Affordability Policy and Finance Committee, it was widely believed a clean bill to extend unemployment benefits for laid-off Iron Range workers would be passed the first week of session, possibly even on day one.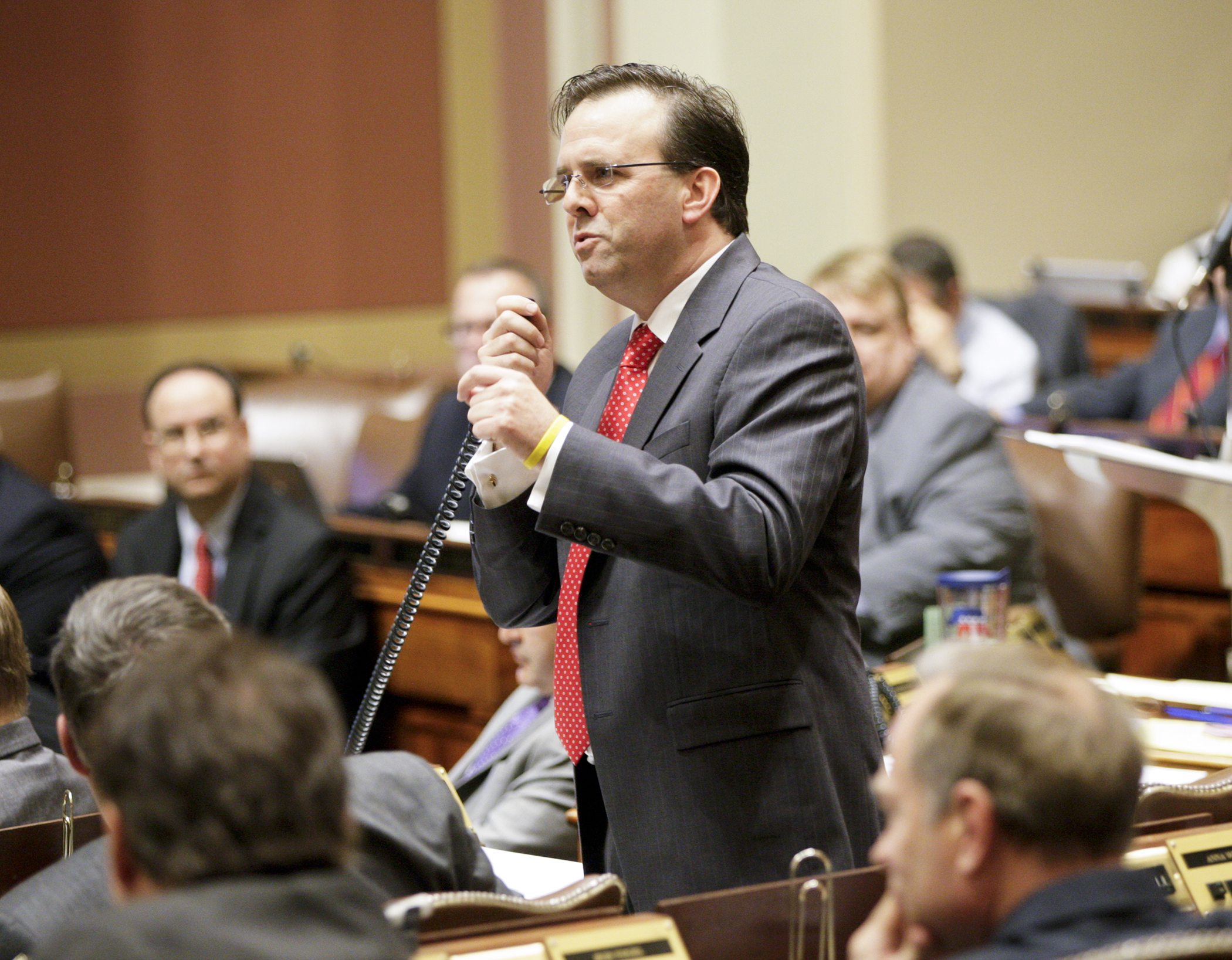 Rep. Pat Garofalo discusses his motion to suspend the House Rules so SF209 can be taken up. Photo by Paul Battaglia
However, the committee approved the bill after amending the trust fund language.
Garofalo, the committee chair, noted that the DFL previously supported returning a trust fund surplus, and said this bill will do both.
"Based off of the votes that members of this body have cast in the past, based off of bills that members of each side of the aisle have chief-authored, co-sponsored and spoke in favor of, there has been, literally, broad bipartisan support for the provisions of the bill," he said. "It would seem that for some the only reason to oppose this bill would be that others are proposing it."
Rep. Tim Mahoney (DFL-St. Paul) said circumstances "are entirely different" from when a previous bill was proffered. "This comes down to a tax break for Fortune 500 companies versus food on the table for working people."
Minnesota unemployment benefits expire after 26 weeks; however, the state has provided additional unemployment insurance benefits during other crisis times when workers were laid off through no fault of their own, including for airline workers following 9/11 and, more recently, for farmers affected by the Avian Flu crisis.
Floor access concerns raised
With the Capitol closed to the public during its renovation — and no House Gallery seating available — there will be a limited number of public seats in the alcoves at the back of the House Chamber.
House floor discussion of Rule 2.40 and 2.41: Admittance to Floor and Media News Reporters 3/8/16
However, House Minority Leader Paul Thissen (DFL-Mpls) said that violates House Rule 2.40, which states, in part, "The alcoves in the Chambers are for the use of members only, and the Sergeant at Arms must keep them clear of others." Additionally, he says the rule said any person issued a permit to be on the House floor must be seated near the Speaker's rostrum.
Before ruling the point of order not well taken, Daudt said House Rule 7.01 allows him to make the change without changing House Rules. Per the rule: "Except as otherwise provided by rule or law, the Speaker has general control of the Chamber of the House and of the corridors, passages and rooms in the Capitol and State Office Building under the jurisdiction of the House."
House Majority Leader Joyce Peppin (R-Rogers) said DFL objections would eliminate any public access with the House while meeting in the Capitol. "When things are under construction, you have to make some modifications."
Thissen, who also unsuccessfully raised a point of order limiting press access to the House Floor, reiterated that session could have been held in an alternative location, such as the Minnesota Senate Building, rather than being surrounded by an active construction zone.