The threat of a cyberattack sometimes seems imminent and everything from proprietary and personal data, to the health and safety of the public are at stake. 
To help tackle those threats, Rep. Tony Albright (R-Prior Lake) is sponsoring two bills that aim to position Minnesota as national leader in the area of cybersecurity.
HF3639 would appropriate $5 million in Fiscal Year 2019 to fund cybersecurity programs at Metropolitan State University. Additionally, HF3644 would authorize $5 million in state bond proceeds to create a cybersecurity operations center on its campus. 
The bills were laid over Tuesday by the House Higher Education and Career Readiness Policy and Finance Committee for possible omnibus bill inclusion. They have no Senate companions.
"During the next five years, cybercrime will become the greatest threat for every person, place and thing in the world," Albright said.  "We are not alone in this endeavor but, unfortunately, we're not in a leadership position right now."
Albright said he first learned about the issue last fall while on a trip to Israel, where he met Ronen Almog, an Israeli cybersecurity expert. Almog shared firsthand accounts of the cyberattacks his organization has handled, ranging from data theft, to attacks on health care equipment, targeting human lives.
MnCyber Academy of Minnesota
Kyle Swanson, dean of the College of Sciences at Metropolitan State, said that while Minnesota has traditionally been viewed as having a robust higher education system and educated workforce, the state's falling far behind other states, like Florida and Georgia, in the field of cybersecurity training and education.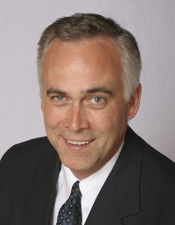 Rep. Tony Albright
"There's a tremendous demand for positions. Currently in Minnesota there are more than 5,000 cybersecurity job openings," he said. "For every 10 openings, there is one qualified job applicant. This is becoming a very serious issue from the overall protection aspect of things and also the workforce development end of things."
To help meet the demand, Metropolitan State recently initiated the MnCyber Academy of Minnesota, which will serve as a clearinghouse for other Minnesota State institutions by distributing information and providing curriculum. 
"There's no space for competing when the demand is that high," Swanson said. "We have to work together, we have to leverage these separate talents that we have at the various campuses to truly build something that's remarkable."
The program has already secured about $1.5 million in federal and state funding, and is actively seeking a variety of private partnerships with Minnesota businesses. The money appropriated through the bills would go towards bolstering the program infrastructure and curriculum.
"We're viewing this as a seed investment," Swanson said. He added that the goal is to ultimately become self sustainable within three to five years.  
"We are very big into the public-private partnership, not only for the funding and those things but for the idea that when you're connected very tightly with the private sector, it forces you to play the game a lot better than if you're just an academic institution that's in a silo," he said
The curriculum
Almog's company would help create the curriculum and training. It's a partnership that Mike Wolbrink, a veteran and owner of Azule, a staffing agency, said will provide Metropolitan State with many advantages.
"One of the advantages of what we're putting together in this, is our partnership with an Israeli company … they are best that I've ever seen," Wolbrink said.