Hailing initiatives to fight hunger, homelessness, opportunity gaps and child care shortages, Rep. Dave Pinto (DFL-St. Paul) urged support of the omnibus children and families finance bill Thursday.
And a majority of members on the House Children and Families Finance and Policy Committee complied as HF238, as amended, was approved by a split voice vote and referred to the House Ways and Means Committee.
"We can be really proud and excited about the opportunity presented by this bill," said Pinto, who sponsors the proposed legislation, which members first saw during a walkthrough of the bill Tuesday, then heard public testimony on it Wednesday.
The omnibus proposal includes $1.17 billion in new General Fund spending during the upcoming biennium: $875 million in health and human services; $300 million for early education. It would make major investments in child care, early learning and homelessness, among others.
Investments in the Early Learning Scholarship Program, that helps low-income families with young children access programs that prepare them to attend school, as well as retention payments and reimbursement increases for providers in the Child Care Assistance Program, would be among the bill's largest appropriations.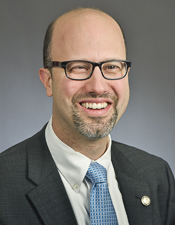 Rep. Dave Pinto
More funding would also be directed to emergency shelter grants, while another notable provision  would create a new state agency — the Department of Children, Youth, and Families — to combine core child, youth and family support programs to better serve Minnesota's children.
[MORE: See the HHS, early education spreadsheets]
Members considered two amendments, adopting one.
The successful amendment, offered by Pinto, makes funding adjustments to a handful of provisions along with other technical fixes to the bill.
But the amendment offered by Rep. Brian Daniels (R-Faribault) would have made major changes, including redirecting more than $400 million to Early Learning Scholarships and prohibiting those funds from being used for other purposes. It failed on a 9-6 party-line vote.
Daniels said that while the bill contains admirable goals, he's concerned its additional spending and policy provisions will not be sustainable amid an uncertain economic future.
"We have all this money and it's great, we have a big [budget] surplus, three or four years down the road the economy may take this big dive," he said. "Bottom line is, in maybe three or four years we're going to have to cut those programs, and that's going to hurt."
Those concerns were shared by Rep. Walter Hudson (R-Albertville) who used the analogy of shopping for groceries and filling the cart with items that may look good, individually, until you reach the register and have to pay, "which is great if you have the money, it's not so great if you don't."
"My concern is that we're on a path, fiscally, where there is no way to deliver on the promises that we're making to children and families today," he said.
But Rep. Carlie Kotyza-Witthuhn (DFL-Eden Prairie) said the state has the resources to give every child a great start but has been lacking the political will to make the needed investments in kids, families, child care providers and teachers.
"We all benefit from these investments," she said. "I've mentioned a couple of times that the return on this investment has shown to be the best possible place for state dollars."
Kotyza-Witthuhn said the bill would impact future education spending, public safety needs, strengthen the future workforce and help make Minnesota a place where people want to live.